Panthers Fans Ranked In Europe Top Fifty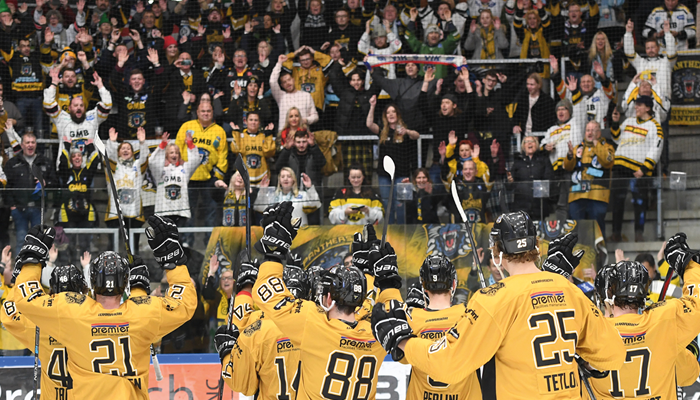 The Elite Ice Hockey League have been running through the statistics whilst usual EIHL action has been put to a premature end due to the outbreak of coronavirus and Nottingham Panthers have featured in the IIHF top fifty for highest average attendances across Europe.
The Panthers have came in as the 49th highest attended club on average with usual gates at the Motorpoint Arena just over the 5,500 figure seeing Nottingham as the 49th best supported Ice Hockey team in Europe and the second best in the country behind Sheffield Steelers who are 28th (averaging 6,610).
In first place SC Bern of Switzerland average 16,237 at the PostFinance Arena with Russian side SKA St. Petersburg second of those highest gate receivers just short of 13,600.
For a list of the attendance figures in European hockey leagues over the 2019/20 season click here
The Elite League has the eighth highest average attendances in Europe across all ten teams and more positive news for the organisation is that the growth in its social media has been huge since the start of the season with its Facebook followers growing by over 10% (more than any comparable major ice hockey league in Europe) with Instagram growing by over 31% and Twitter up by over 9%.
For Nottingham Panthers a premature and unexpected end to the season was a disappointing outcome to a frustrating year with the clubs General Manager Gary Moran stating "That was a week and a half to say the least, you just have to roll your sleeves up and get on with it"
Moran said "we could see the stories and was waiting for something to happen and then the crooks of the matter started with a conference call amongst the ten clubs last Thursday".
"It was at that conference call that one of the teams revealed that they had a couple of guys in self isolation"
"Come Friday morning Belfast had two guys in isolation and at that conference call it was a no brainer, the league was then shut down"
On the disappointment of that and the cancellation of the clubs annual awards night the club will now look forward to a longer than anticipated rest this summer before going again in August with Moran stating "We wish all of our fans, all of our sponsors, all of our players, all of our staff a safe journey through the summer".
*Main image @PanthersIHC the fans have cheered the Panthers on in numbers home and away in the UK and Overseas this season.