Our photographs from some of the counties best established and lesser known football teams are a collection provided by donators who want to share with you their memories of days gone by from the football fields across Nottinghamshire. We are always looking for more team photo's to include on our website so if you have any hidden away that involve Nottingham's teams however obscure or well known then please send to info@nottinghamsport.com and we will not only share with everyone but also credit those for sending.
Gedling Colliery (1952)
Gedling Colliery (1953)
Newstead Colliery (1957)
Linby Colliery (1959)
Sutton Town (1959/60)
Beeston United (1964/65)
Back row: Pete Anderson, Keith Peel, Brian Deering, Barry Buckland, Gerry Stocks, Ted Revill. Front row: Roger Mumby, Malc Aylott, Colin Deering, Pete Goode, John Down.
Hyson Green Old Boys (circa 1965)
Bulwell Town (1967)
Ericssons Athletic (1967)
Raleigh Athletic (1971/72)
Back row: A Crofts, V Howard, S Wright, D Bullas, J Curtis, G Wilson, A Bass, H Foster. Front row left: M Eden, P Niblett, A Stacey, D Iswin, G Benson.
Meadows Albion (1972)
Malt Shovel (1973/74)
Back row: Bob Turgoose, Brian Pemberton, Sean Gleeson, Phil Willows, Kevin Sales, Keith Peel, Ivan Solloway, Ray Turgoose, Bernard Poyser. Front row: Johnny Stoneman, Mick Mansfield, Paudy Kinsella, Don Berridge, Dennis Hodges, Keith Brown.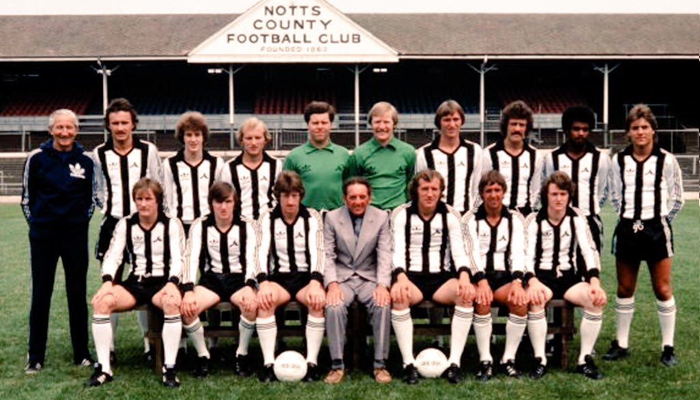 Notts County (1979)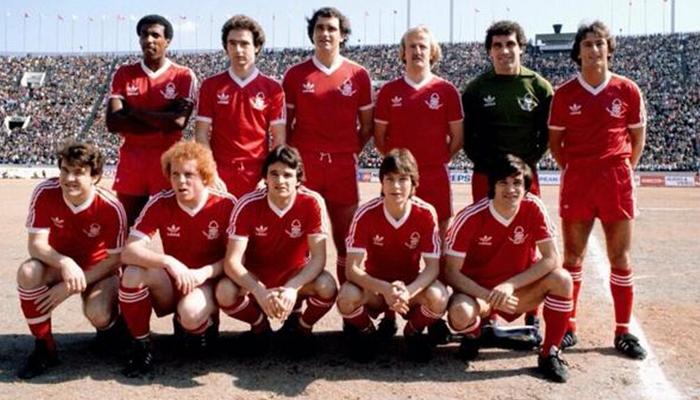 Nottingham Forest (1980)
Back row: Viv Anderson, Martin O'Neill, Larry Lloyd, Kenny Burns, Peter Shilton, Trevor Francis. Front row: John Robertson, Ian Wallace, Frank Gray, Stuart Gray, Raimondo Ponte.
Apollo FC (circa 1980)
Rainworth Miners Welfare (1981/82)
Back row: R. Timms, A. Raine, D. Hallam, C. Watson, N. Robinson, B. Dawson, S. Murphy, J. Slater, T. Sterland. Middle row: M. Hodgson, D. Radzki, A. Wright, B. Phillips, J. McGowen, A. Cooling, B. Knowles. Front row: M. Oliver, B. Reah.
Radford Park Rangers (1981)
Kimberley Town (1981/82)
Back row: B Fearin, H Hibbert, S Taylor, C Smith, L Parker, A Crofts, S Szepp, S Parry, A Henshaw, F Parry, unknown. Front row: Beardsley, C Brooks, R Riley, P Wheatley, B Hunt, unknown.
Southwell City (1981/82)
GPT Plessey (1985)
Back row: Allan Brown, Steve Oldham, Phil Walker, David Bull, Kevin Leame, Ifan Morris, Andrew Towlson, Iain McCulloch. Front row: Keith Williams, Kiristian Maddison, Simon Richmond, Paul Bowers, Andrew Lane, Richard Pallister, Colin Wragg.
CCN Sports & Social Club (1985/86)
Calverton Miners Welfare (1986)
Calverton Rangers (1986)
Huthwaite (1987)
Back row: Ian Hallam, Alan Thacker, Colin Thacker, Stuart Thompson, Sue. Middle row: Don Collins, Pete Parkes, John Parsons, Steve Harris, Clive Churm, Kev Newton, Trev Wass, Alan Pegg. Front row: Kieran Smith, Steve Bush, Steve Cooke, Gary Hallam, Richard Denby, John Clayton, Colin Gregory.
Poets Corner (1987)
West Notts FC (1989)
Back row: Nick Burkenshaw, Mark Taylor, unknown, Tony Brazier, Rod Arnold, Carl Beet, Mike Exley. Front row: Geoff Lange, Mark Whiteman, John McManus, Alan Strouther, Andy Williams, Mark Murray.
AD Bulwell (circa 1990)
Mellish FC (circa 1990)
Fanzines United (1991/92)
Back row: Ian Swanton, Andy Lowe, Garry Smith, Ian Richmond, Jim Dees, Nick Emery, Stuart Cooper, Aidy Black, Charlie Lee. Front row: Pete Dawn, Jon Poole, Dickie Brinley.
Highbury Vale FC (circa 1995)