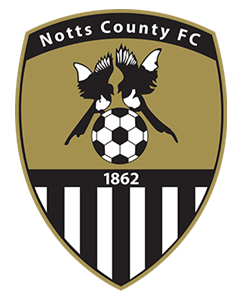 Founded: 1862
Venue: Meadow Lane (19,841)
Since: 1910
Men's Head Coach: Luke Williams
Since: 2022
Division: National League
Since: 2019
Women's Head Coach: Adam Dunleavy
Since: 2018
Division: East Midlands Women's Regional Football League Premier Division
Since: 2021
Website: nottscountyfc.co.uk
Twitter: @Official_NCFC
Famously known as the Oldest professional football club in the world, until recently Notts County were also the oldest surviving football league club until relegation to the National League in 2019.
After forming in 1862 the club became founder members of the Football League in 1888 and reached the FA Cup final in 1891 before winning the competition for the first and only time in 1894. Notts twice finished third in the early days of the football league's First Division and were largely a top tier side during the first quarter of the 20th Century but after relegation to Division Two in 1926 they spent the next 55 years outside the top flight with relegation to the fourth tier in 1964 where they spent seven seasons until under the stewardship of the legendary Jimmy Sirrel, they gained promotion winning the title in 1971. Two years later Sirrel lead Notts to Division Three promotion and in 1981 they finished second in the Second Division gaining promotion to the top flight of English football after long absence.
The Magpies spent three years in the top flight during the early 1980's before successive relegation's but in the early 1990's they won back-to-back promotions and enjoyed a single season in the Football League First Division in 1992 before relegation cost the team a place in what was the opening year of the Premier League. County would slowly fall from grace, all be it winning the Anglo Italian Cup in 1995 but by 2004 the side would be relegated to the bottom tier of the football league for the first time since their Fourth Division title win of 1971.
After six years Notts won the league in 2009/10 to gain promotion to League One but after five seasons in the third tier, relegation saw the club back in League Two for four years before relegation to the National League saw the side fall out of the Football League for the first time in their history.
The clubs female first team were a member of the newly founded WSL in 2014 before folding three years later due to financial implications despite the Lady Magpies reaching the final of the Women's FA Cup where they lost to Chelsea at Wembley in 2015. After restructuring in 2017 the club have since resided in the East Midlands Regional Women's Football League where they currently play in the Premier Division.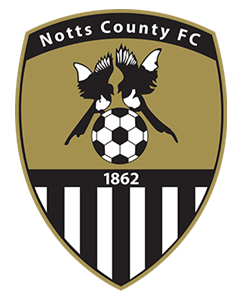 2022/23 results & fixtures (men)
06.08.22 Maidenhead United (h) 3-0
13.08.22 Boreham Wood (a) 2-2
16.08.22 Gateshead (a) 1-1
20.08.22 Chesterfield (h) 2-2
27.08.22 Halifax Town (a) 4-1
29.08.22 Solihull Moors (h) 1-0
03.09.22 Dagenham & Redbridge (a) 5-0
13.09.22 Aldershot Town (h) 2-0
17.09.22 Dorking Wanderers (a) 1-3
24.09.22 York City (a) 3-1
01.10.22 Altrincham (h) 3-1
04.10.22 Wrexham (h) 1-0
08.10.22 Woking (a) 3-2
15.10.22 Coalville Town (h) 2-3 (FA Cup Fourth Qualifying Round)
21.10.22 Maidstone United (h) 3-0
25.10.22 Wealdstone (a) 6-1
29.10.22 Torquay United (h) 4-0
01.11.22 Bromley (h) 1-1
08.11.22 Southend United (a) 2-2
12.11.22 Eastleigh (a) 2-0
19.11.22 Yeovil Town (h) 0-0
03.12.22 Scunthorpe United (a) 4-1
10.12.22 Maidenhead United (a) 4-3
13.12.22 Gateshead (h) 2-0
20.12.22 Chorley (h) 2-1 (FA Trophy Round Three)
26.12.22 Oldham Athletic (h) 4-1
01.12.23 Oldham Athletic (a) 2-2
07.01.23 Aldershot (a) 3-0
10.01.23 Boreham Wood (h) 1-1
15.01.23 Maidstone United (h) 2-2 (FA Trophy Round Four) *5-6 pens
28.01.23 Halifax Town (h) 1-0
31.01.23 Solihull Moors (a) 2-1
04.02.23 Torquay United (a) 2-1
11.02.23 Chesterfield (a) 2-1
14.02.23 Barnet (h) 4-1
18.02.23 Yeovil Town (a) 4-1
21.02.23 Southend United (h) 4-0
25.02.23 Dagenham & Redbridge (h) 1-2
04.03.23 Bromley (a) 1-1
11.03.23 Dorking Wanderers (h) 3-1
14.03.23 Eastleigh (h) 3-1
18.03.23 Barnet (a) 1-1
25.03.23 Scunthorpe United (h) 4-0
01.04.23 Altrincham (a) 2-0
07.04.23 Wealdstone (h) 3-0
10.04.23 Wrexham (a) 2-3
15.04.23 Woking (h) 3-0
22.04.23 Maidstone United (a) 5-2
29.04.23 York City (h) 1-1
07.05.23 Boreham Wood (h) 3-2 (Playoff Semi-Final) *aet
13.05.23 Chesterfield (n) 2-2 (Playoff Final) *4-2 pens
*National League unless stated (in brackets)
2022/23 full squad (men)
Sam Slocombe, Tiernan Brooks, Brad Young, Richard Brindley, Joel Taylor, Kyle Cameron, Connell Rawlinson, Aden Baldwin, Tobi Adebayo-Rowling, Adam Chicksen, Geraldo Bajrami, Jim O'Brien, Ed Francis, Frank Vincent, Matt Palmer, Sam Austin, Ruben Rodrigues, Kairo Mitchell, Quevin de Castro, Aaron Nemane, Macaulay Langstaff, Cedwyn Scott.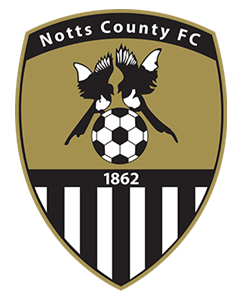 2022/23 results & fixtures (women)
04.09.22 Lincoln United (a) 2-1
18.09.22 Mansfield Town (a) 4-2
09.10.22 Oughtibridge War Memorial (a) 3-1
30.10.22 Rotherham United (h) 3-3
06.11.22 Loughborough Vixens (h) 8-0 (League Cup Round One)
27.11.22 Arnold Eagles (h) 5-2
04.12.22 Basford United (a) 3-2
11.12.22 Chesterfield (h) 0-5
18.12.22 Lincoln United (h) 3-2
29.01.23 Rotherham United (a) 3-0
05.02.23 Anstey Nomads (h) 1-0
12.02.23 Ilkeston Town (h) 0-4 (League Cup Round Two)
26.02.23 Arnold Eagles (a) 1-0
05.03.23 Basford United (h) 1-0
19.03.23 Retford (a) 7-0 (County Cup Semi Final)
26.03.23 Mansfield Town (h) 3-0
02.04.23 Chesterfield (a) 2-1
2022/23 full squad (women)
Shoniqua Barnes, Molly Boultbee, Sam Brooks, Nya Chambers, Mollie Crump, Philipa Davies, Nicola Emery, Holly Fowler, Lashea Francis, Summer Gayle, Alice Hayes, Amelia Holland, Audrey Huskisson-Moore, Hannah Kiddle, Jessie Knott, Skye Lakin-Wright, Isobel Lee, Elizabeth Queen, Bella Reed, Elle Rowson, Emma Scoffham, Abbie Staples, Emily Stretton, Laura Vine, Amy Wells, Emma White.