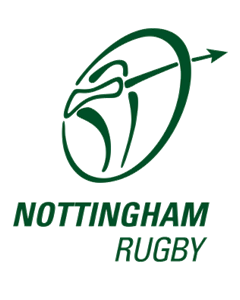 Founded: 1877
Venue: Lady Bay (3,500)
Since: 2015
Head Coach: Craig Hammond
Since: 2021
Division: RFU Championship
Since: 2004
Website: nottinghamrugby.co.uk
Twitter: @NottinghamRugby
It was Alexander Birkin who established Nottingham Rugby Football Club in 1877 after returning from Rugby School where he was first introduced to the sport. Known affectionately as 'the green and whites' since 1886 the club with the aid of the Birkin family purchased premises in Beeston (later known as Ireland Avenue) where they would play from 1904 and first winning the Midland Counties Senior Cup (a trophy that was previously won eight times on the bounce by Leicester Tigers) in 1906.
The club became the first to play a match with a white ball as they hosted Bradford at Ireland Avenue in 1951 and Nottingham were the first club in England to appoint an official rugby coach Dai Roberts in 1966.
Until 1972 Rugby Union in England was largely played on a friendly non competitive basis but that changed when the RFU Club Competition with Nottingham reaching the second round beating Leicester before losing to Coventry in its debut year.
In 1987 The Courage League was formed and Nottingham were founder members enjoying some memorable years in the top division with some of the countries finest England Internationals turning out regularly at Ireland Avenue. After professionalism in 1996 Nottingham turned on hard times and lost top tier status rejoining the National League One in 2004 before leaving Ireland Avenue in 2006.
The club have since played at Notts County's Meadow Lane before moving to Lady Bay in 2017 and have regularly since been competitive in the countries second tier Rugby Union league the Championship.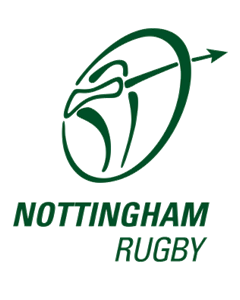 2022/23 fixtures & results
10.19.22 London Scottish (a) 31-10
18.19.22 Cornish Pirates (h) 19-23
24.09.22 Caldy (a) 27-19
30.09.22 Doncaster Knights (h) 30-15
08.10.22 Hartpury (a) 31-39
21.10.22 Richmond (h) 45-26
29.10.22 Ealing Trailfinders (a) 33-64
06.11.22 Jersey Reds (h) 12-28 (Championship Cup Pool A)
13.11.22 Ealing Trailfinders (h) 19-26 (Championship Cup Pool A)
19.11.22 Hartpury (a) 19-33 (Championship Cup Pool A)
03.12.22 Bedford Blues (a) 31-32
09.12.22 Jersey Reds (h) 22-31
26.12.22 Coventry (h) 17-45
13.01.23 Cornish Pirates (a) 6-17
20.01.23 Caldy (h) 17-29
28.01.23 Doncaster Knights (a) 15:00
05.02.23 Hartpury (h) 15:00 (Championship Cup Pool A)
11.02.23 Ealing Trailfinders (a) 15:00 (Championship Cup Pool A)
18.02.23 Jersey Reds (a) 15:00 (Championship Cup Pool A)
03.03.23 Hartpury (h) 19:45
11.03.23 Richmond (a) 15:00
17.03.23 Ealing Trailfinders (h) 19:45
26.03.23 Bedford Blues (h) 15:00
01.04.23 Jersey Reds (a) 15:00
14.04.23 Ampthill (h) 19:45
22.04.23 Coventry (a) 15:00
28.04.23 London Scottish (h) 19:45
*RFU Championship unless stated (in brackets)
2022/23 full squad
Toby Williams, Aniseko Sio, Ben Betts, Callum Allen, George Cox, Scott Hall, Jacob Wright, Lewis Barrett, Carl Kirwan, Josh Poullet, Michael Stronge, Sam Hollingsworth, Morgan Bunting, Charlie Thacker, Harry Graham, David Williams, James Peachey, Jack Stapley, Nathan Tweedy, Jack Dickinson, Harry Clayton, Xavier Valentine, Ross Bundy, Iosefa Maloney-Fiola, Javiah Pohe, Liam Slatem, Michael Green, Jack Neville, Josh Goodwin, Jordan Owufela, Marcus Ramage.