Renan Lodi: What is his future, and what does he offer to Nottingham Forest?
Following a swirl of rumours back in the summer, Renan Lodi joined Nottingham Forest on a season-long loan move from Atletico Madrid, where he featured a total of 84 times over three campaigns, under one of the most defensively astute managers in Diego Simeone – and while the move didn't get off to a "dream start," Renan Lodi has since picked up form, and has become arguably one of Forest's best players over the recent months.
A tough start to life at the City Ground:
The 29th of August was an exciting day for many Nottingham Forest fans: Atletico Madrid defender, Renan Lodi, signed on a loan move with a £25m buy-out clause involved – high hopes after signing from one of Spain's biggest clubs, and having played in the Champions League amongst other top tier domestic tournaments. The deal was all but confirmed when just a day before the announcement was made, the Brazilian Left-Back was spotted in the main stand seating, watching as his new side played Tottenham Hotspur.
To no fault of his own particularly, his debut was the 6-0 drubbing at the hands of Manchester City, where despite the result, Lodi showed some promise, creating lots of attacks and getting himself forward frequently, while also having a decent defensive performance, against a team he had played against just a season before in the Champions League. From that game however, form didn't pick up, and for a couple of months, many Nottingham Forest fans were starting to question the ability of the loanee. Given this drop in form, just before the World Cup break, Renan Lodi was dealt with a double whammy of bad news: A) He'd lost his place in the starting lineup at Forest B) He wasn't going to be called up for the Brazilian international team's upcoming fixtures – but it isn't all 'doom and gloom', because despite these setbacks and a tough start in a new country and league, Lodi came back, and proved why he should both be in a Forest team, and making it to the Brazilian selecao.
Renan Lodi finds his feet – did the Brazilians joining him help this?
In January came six brand new signings, three of those being Brazilian, and while this might not sound so significant, it really is, and I'd argue that without these signings being made, Lodi wouldn't have found his feet fully at the club. Felipe, a former teammate of Renan Lodi, was already a close friend of Renan's before moving to the East Midland Premier League outfit. Scarpa & Danilo however, while not necessarily knowing Renan quite as well, all spoke the same language, and shared the same culture – no doubt this helped raise Renan's confidence levels, while also benefiting the other new Brazilians, as Lodi introduced them to the club, given his six months of experience there. This smart form of "two-by-two" (as I like to call it) recruitment, in regard to two pairs of former teammates, to me, illustrates the importance of a team having chemistry, knowing one another, and having strong bonds on and off the pitch – something of which Cooper has championed since becoming manager at Nottingham Forest. Scarpa & Danilo, former Palmeiras and Brazilian, Felipe & Lodi former Atletico Madrid and Brazilian – see the link?
These transfers served him well, and since then the Brazilian Quadrant at Nottingham Forest has been one that puts smiles on the faces of all Reds fans – four individuals with incredible personalities, and great footballing ability – unfortunately Scarpa suffering with injuries, but a great player to have around the changing rooms in the meantime. Now thriving, Renan Lodi has been almost a brotherly figure to young Danilo, always by his side, and pulling off an iconic celebration for Danilo's goal against Brentford – Lodi has found his confidence, and been a huge part in the success of not only his Brazilian counterpart's, but also the other 21 members in the first-team squad.
What makes Renan Lodi so important to this Steve Cooper Nottingham Forest side?
Before the Liverpool game in the back-end of April, Forest were using a back-four, consisting of Aurier, Joe Worrall/Niakhate, Felipe & Renan Lodi, and while this defence should be more than capable of achieving Premier League survival, it was evident it needed a little tweak; Cooper's move to a back-five turned out to be a season defining move, and brought out the best in certain players – particularly Renan Lodi, who's attributes lie not just in his defensive skills, but also his progressive traits.
The Liverpool game, as previously mentioned, was the turning point for Nottingham Forest in their survival efforts – moving to a back-five, and switching between a 'heavier midfield' (more personnel), or a more attacking front two of Johnson & Awoniyi, with Gibbs-White sitting behind. The midfield & Attacking units were solid, and slowly but surely, the defensive unit was strengthening – lead by Felipe, this defence has helped Nottingham Forest to just one loss since that game at Anfield.
More on Renan Lodi though, his set-piece skills and general ability to progress with the ball into the opposition half makes him the almost-perfect wing-back for Steve Cooper's Forest side when using this formation. Whether it be the numerous interceptions, the Spiderman-esc sliding tackles, or the balls played down the line after a recovery, Renan Lodi is proving game-by-game even more so why he should be not only one of the first names on the team sheet, but a permanent member of the Forest squad, in regard to his transfer status.
His mentality has been excellent also, a persistent character motivated by the aforementioned setbacks – rather than delve on his failures in a negative way, Lodi worked hard to find his feet and have a positive impact. As revealed by himself, Renan was upset by his omission from the Brazil World Cup squad, but this bit of news would end up being a huge factor in his comeback- he used it as "fuel" for his motivational fire. It worked wonders for his mentality, in the end, and shone light on the excellent professional he is.
Renan Lodi to Nottingham Forest: Complex, but possible (from what we know):
While there was prior mention of a buy-out clause for Renan Lodi's permanent status, this clause expired before Nottingham Forest secured Premier League survival after beating Arsenal last weekend – disappointing to many Forest fans, but one that could potentially work in their favour. The reason it could work in their favour is because, as Jac Talbot of Transfermarkt.com reports, Atletico Madrid may be willing to accept a lower fee for the Brazilian, with Nottingham Forest now keen to renegotiate a deal after the expiration of the buy-out clause. Good news on that part, potentially around the £20m at a guess, but maybe even lower – more details expected over coming weeks.
While there is the financial side of the transfer to agree on, there is also the personal side. Previous reports revealed that Renan Lodi was/is keen on a stay in Nottingham at the City Ground now that the club have secured Premier League football for the 23/24 season – and, I would say it's likely a deal that will be made and agreed on in the summer, but there are still other factors to take into account. In a long-worded paragraph on his Instagram, Renan Lodi highlighted not seeing his child, new-born, for more than 50 days due to the sacrifices made to play for Forest – his separation from family is, potentially, a hurdle for a transfer to Nottingham Forest, and given his on-the-field show of emotion, it was clear the time away had taken it's toll – he's only human, and a father, to sacrifice that much time away from family must be harrowing. Of course, conversations will be had between him and family, I'm sure, but to make a decision like this is incredibly difficult – but other than this, I can't see much else stopping Lodi from joining Forest in the summer.
25 years of age, still with potential to get even better, I'd argue that a move for Renan Lodi on a permanent basis would be a smart move for the Reds – a player that plays for the shirt, and is incredibly passionate, while displaying all the necessary qualities needed for a wing-back/full-back in this current Nottingham Forest Premier League side. The cost they will incur for signing him, which will likely be lower than £25m, will pay-off, I believe – it would be a brilliant opening signing for the summer.
Is depth an issue, though?
Usually when discussing depth for a side, it's usually due to the lack of personnel in a given position, but for Forest, quite the latter: three left-backs in the squad before Christmas, in Toffolo, Lodi & Richards – so, if Lodi does stay, surely one of the 'other two' has to go the other way?
Harry Toffolo – 18 appearances for Forest, 9 off the bench, Toffolo has proved to be a rather steady backup to Renan Lodi, stepping in during dip in form prior to Christmas, and also during injury, he's been there when Cooper needed him, and has done so without question – I really like him, and his attitude, it would be great to see him stay at the club.
Omar Richards – Yet to make an appearance for Nottingham Forest, it's hard to argue a case for Omar Richards being picked over Toffolo as a backup. Since arriving with a hairline fracture to his leg, Omar Richards has had setback after setback, and will likely return during pre-season – the only benefit I can see him having in comparison to Toffolo is age, and the potential he has. Before his injury, a great player for both Reading & Bayern Munich, but it is unfair to use this as a way of putting him in front of Toffolo in regard to backup position.
A tough call will be made to accommodate this permanent move for Lodi, if it happens, but for me, Toffolo has no reason to leave – I just cannot see Steve Cooper having three left-backs in the squad next season.
Now, a waiting game…
The many factors presented should hopefully give you an idea of how complicated this deal could be, as not only will the clubs have to renegotiate a deal, but Lodi will have to look at his family situation, and Forest look at the financials of a deal, and a potential departure for one of the left-backs mentioned above.
Making Lodi a permanent member of this team would be excellent, particularly if they stay in this formation, but if they don't, a very capable full-back is ready. It's a worthy investment, and one that if I was part of the recruitment team, I would sanction as a priority signing in the summer.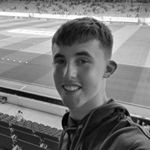 *Article provided by Jamie Martin (Head Nottingham Forest Correspondent).
*Main image @NFFC Renan Lodi has been a huge hit with Forest fans this season.