Nottingham is a city that often punches above it's weight which is ironic as some of the great sporting success stories of those born in the county of Robin Hood include some of the finest fighters the world has ever seen. But not just known for bandits and boxers, Nottinghamshire as a whole has more to offer with Olympians, Athletes, Football icons, legends in sport that have not just done the city and it's outer boundaries proud, but the country and its people of the United Kingdom proud too. We look at some of those most famous figures born locally who have put our county on the map through their sporting success.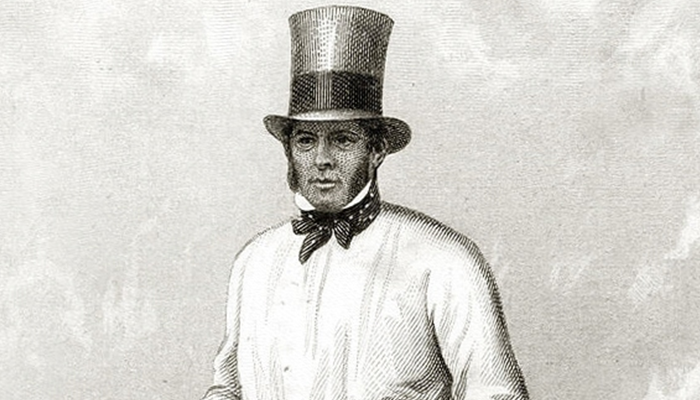 William Clarke (born Nottingham, 24th December 1798) *pictured above
As one of the first pioneers of first-class cricket in Nottingham, Clarke had a hand in playing, captaining, managing, and even founding the revolutionary All-England Eleven cricket team. He was a publican at the Trent Bridge ground, and a tactical leader on the cricket field. His slow spin bowling brought him a mass of wickets, 795 in all, at a remarkable average of just over 10. He dismissed over 300 batsman in a season on a regular basis for a time, and competed for over 40 years. His ventures with the All-England team brought cricket to the bigger cities and he also helped himself to becoming very wealthy from the takings in the matches. He took a wicket with the last ball he ever bowled in cricket.
William Thompson (born Nottingham, 18th October 1811)
'Bendigo' as you may know him was an English champion heavyweight bare knuckle fighter weighing in at just 12 stone and winning 19 of his 20 bouts but more famously is regarded as the man who invented the 'southpaw' stance. Inducted into the Boxing Hall of Fame in 1991 (111 years after he died aged 68 in Beeston) his rivalry with the much bigger Hucknall born boxer Ben Caunt known as the 'Torkard Giant' is one that saw crowds of tens of thousands watch them fight. Thompson fought Gaunt four times in total but he first won the All England title against James Burke in front of over 15,000 spectators in 1839. Thompson died in Beeston on 23rd August 1880.
George Parr (born Radcliffe-on-Trent, 22nd May 1826)
Known as the 'Lion of the North' George Parr was considered the best cricketer in the world during his time of playing from the mid-1840s to 1870. He captained Nottinghamshire for 15 years and skippered the first England side that toured overseas in 1859. He was one of the prime members of the all-professional All-England Eleven, and in a time when ball favoured the bat greatly, he had an impressive average of 20.20 with a top score of 130, the only century of his career. He was a strong leg-side player and excellent in defence.
Richard Daft (born Nottingham, 2nd November 1835)
Another Nottinghamshire cricketer with a longevity record of over 30 years, Richard Daft was considered one of the best batsman of his day. A county captain for ten years, he participated in over 250 first-class matches and recorded over 9500 runs. He was one of the few cricketers of the time to turn amateur after being a professional. He skippered a side to North America in 1879, and ran a pub near to the Trent Bridge ground. Noted as having a sound and compact game, Daft also opened up a sports shop but went bankrupt in his latter days. He did however lead the side to six Champion County titles during his years as the club captain. Daft was a founder member of Notts County FC.
Alfred Shaw (born Burton Joyce, 29th August 1842)
As one of the greats of the Victorian-era cricket, Shaw bowled the first ball in test match cricket, helped promote the major tours to Australia in the early days, and organised the first rugby tour down under by a British team. Well known for the pictures of his small height and girth, Shaw was nevertheless one of the finest bowlers of the time. He career total of 2027 first-class wickets only cost him just over 12 runs per wicket, and he had the distinction of having bowled more overs than runs conceded. A consummate and uncompromising professional, he led the famous strike of the county's professionals in 1881. And despite competing in the first ever test match in history, Shaw only represented England six further times in his career which lasted over 30 years.
Sam Widdowson (born Hucknall Torkard, 16th April 1851)
Mr. Nottingham Forest is famously known as the man who 'invented' shin guards but not many people know that he is also the man who popularised the 2-3-5 formation (which lasted post the 1960's) along with the passing game which his club would be forever famous for. A cricketer with Notts, and a trophy winning hurdler, 'Weller' could run 100 yards on grass in under 11 seconds as well as a mile in under 5 minutes and he also played for England on one occasion in 1880. At Forest he was captain, secretary, chairman and was referee for the first ever trial use of goal nets during a match played in Nottingham between the 'North' and 'South'. Widdowson died at his Beeston home in 1927 aged 76.
Billy Barnes (born Sutton-in-Ashfield, 27th May 1852)
William Barnes was a capable all-round cricketer who had the honour of winning some test matches for England with his medium pace bowling. He had match-winning figures of 6 for 31 and 6 for 28 in two separate Ashes series overseas. He had scored an excellent 134 in another match which again enabled England to win. Even though he was a cotton weaver by profession, Barnes still managed to play in over 450 first-class matches in a 19-year career. He was a potent bowler with 902 wickets at only 17 runs apiece. He was named as one of the Wisden Cricketers of the Year in 1890. He became a landlord of a pub and passed away aged just 46.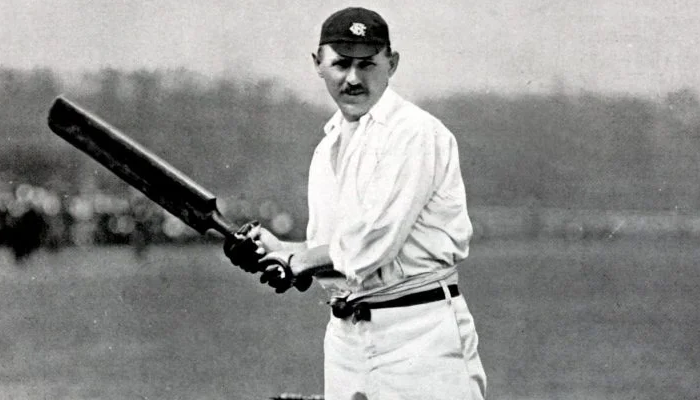 Arthur Shrewsbury (born New Lenton, 11th April 1856) *pictured above
Competing in the same era as the great WG Grace, Arthur Shrewsbury had the honour of being compared to the giant of cricket on who was the best batsman in the world. An accumulator of a mountain of runs for his county with a record number of centuries, he captained the England cricket team and was named as a Wisden Cricketer of the Year. He set many records both for his county and his country, topping the domestic averages on several occasions. A professional in style and substance, Shrewsbury twice scored 267 runs in an innings. His final days were a tragic affair, shooting himself due to illness and depression. He was fondly remembered all around the cricketing world.
Wilfred Flowers (born Calverton, 7th December 1856)
As one of the leading all-rounders of his time, Flowers was a slow spin bowler who excelled on 'sticky wickets' and a hard-hitting batsman. With a steady but unspectacular career, Flowers was still able to take advantage of the 1881 players' strike at the county and emerge as one of the leading players in the side, taking 100 wickets in a season before becoming the first professional cricketer to complete the 'double' of 1000 runs and 100 wickets in a season. He represented England just eight times, but once had a memorable game at Sydney when he took five wickets in an innings and scored a second innings fifty which nearly won the match for his side.
William Gunn (born St Ann's, 4th December 1858)
The father of cricket in these parts, Billy did not just don the whites of Nottinghamshire and England but he would play football for both Nottingham Forest and Notts County too. Standing at 6ft2 tall his huge throwing technique used in football was one that led to an adaption of the rules that is still used today. But in cricket his achievements were significantly more famous, firstly for averaging over 33 for Notts in more than 500 games, whilst also playing 11 tests for England with a top score of 102 not out. Gunn who eventually became Notts County president, a position he held until his death in 1921, was also the co-founder of the famous local sportswear provider Gunn & Moore.
William Attewell (born Keyworth, 12th June 1861)
Known for his relentless accuracy and economy rate, Attewell was a more than useful medium pace bowler, and a stalwart of Nottinghamshire cricket. In a career spanning 18 years, he played in over 400 first-class matches and took over 1900 wickets. He had the superb best bowling figures of 9 for 23. His appearances for England were limited to just ten matches. However, he recorded 100 wickets in a season ten times, and toured Australia on three occasions. Known to his team-mates as Dick, Attewell became a first-class umpire after retiring. He has the unfortunate distinction of being the first cricketer in test history to be dismissed first ball in both innings of a match.
Harry Daft (born Radcliffe-on-Trent, 5th April 1866)
An FA Cup winner with Notts County in 1894, Harry Butler Daft played five times for England scoring three goals as an outside left and also made over 200 appearances for Nottinghamshire Cricket Club scoring a best 103 against Northants in 1897. The son of Richard Daft and brother of Richard Parr Daft who also both played cricket for Notts, Harry who also played for Nottingham Forest and Newark Town was of sporting family who could also play lacrosse to a high level. After running up debt whilst trading at the Trent Bridge Hotel post playing days he died in Hertfordshire aged 77 in 1945.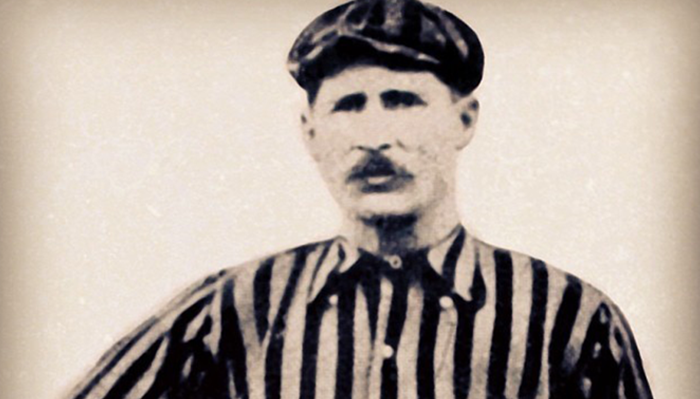 Herbert Kilpin (born Nottingham, 24th January 1870) *pictured above
The son of a butcher who lived at 129 Mansfield Road (since renumbered as 191), Kilpin left his home city to follow the lace trade and work in Italy's then growing textile industry. Whilst in Northern Italy, Kilpin took his love of football (he had played for Notts Olympic and St Andrews Church) and established the Milan Foot-Ball and Cricket Club becoming player-manager of the side which we now know as 'AC Milan' and helping them to win three national titles. Kilpin died in Milan aged 46 in 1916.
Arthur Jones (born in Shelton, 16th August 1872)
Named as one of the Wisden Cricketers of the Year in 1900, Arthur Owen Jones distinguished himself as an all-round sportsman, playing cricket for Nottinghamshire and England, and competing in Rugby Union for Leicester Tigers. He got himself into the record books when he accumulated a massive 296 runs in 1903, the highest score by a Notts batsman at the time. He helped the county win the championship title in 1907, and was chosen to skipper the England team that toured Australia in the winter. He only averaged 13 in 12 games for England, but appeared in nearly 400 matches for Nottinghamshire, and in over 200 games for Leicester Tigers as a full back.
George Gunn (born Hucknall, 13th June 1879)
Nephew of William Gunn, brother of John Gunn who also played for Notts and England and father of George Vernon Gunn who would later go on to play for Notts, George was arguably the most talented of all of the most famous family in English cricket. At Notts, George averaged over 35 with the bat scoring over 35,000 runs in 643 matches but with England, in 15 tests he averaged 40, scoring a debut test century (119) and a highest 122 not out during the Australia tour of 1907/08 in which he top scored for England with an average of 51.33 despite the home nations comfortable 4-1 series win. Gunn died aged 79 in Cuckfield in 1958.
Ted Alletson (born Welbeck, 6th March 1884)
In an otherwise modest career, Alletson will always be remembered for producing one of the greatest feats of hitting seen in cricket history. His 189 in only 90 minutes against Sussex in 1911 contained a remarkable 23 fours and eight sixes. It saw some of the fastest scoring ever seen on a cricket field. Despite this, Alletson played in no test matches for England and finished with a batting average of under 20. He was actually known as a 'blocker' before his incredible innings, but then transformed himself into a big hitter. His career lasted just nine seasons up to the First World War.
Billy Flint (born Underwood, 21st March 1890)
William Flint was an all-round sportsman for the county. In 145 first-class cricket matches he took over 230 wickets and scored over 3300 runs in a ten year career. He was however better known for playing football with Notts County recording over 400 appearances for the Magpies in 14 seasons. He helped the team to gain promotion to the First Division when they won the second division title in the 1922/23 season. After retiring from active sport, he became a landlord of a pub in the city. He was the uncle of well-known England women's cricketer Rachel Heyhoe Flint.
Richard Hill (born Mapperley, 26th November 1893)
A footballer born in Nottingham who never actually played in the city, Richard Henry Hill was a left-back who played in various positions in defence. A former grenadier guard, he was a stalwart of Millwall FC for whom he represented 366 times from just after the First World War to 1930. He remains in the top ten on the all-time appearance list for the club. He competed for England once at the age of 32 in 1926. He scored the one and only goal of his career with Torquay United, before retiring in 1930. He passed away in 1971.
Fred Barratt  (born Annesley, 12th April 1894)
A veteran of Nottinghamshire cricket for 17 years, and over 350 matches, Barratt was a fast bowler who developed into an all-rounder later on in his career. He picked up eight wickets in an innings on his first-class debut, and took over 100 wickets in a season five times. He also represented England in five test matches. Barratt was in the Championship winning team of 1929, as a back-up to Harold Larwood and Bill Voce, capturing 129 wickets, and he was noted for his fast scoring, including a memorable unbeaten 139 in only 84 minutes in 1928, in an innings which contained 18 fours and seven sixes.
Henry Birkin (born Basford, 26th July 1896)
Born into a wealthy family, the son of Sir Thomas Birkin, 1st Baronet, a lace manufacturer in Nottingham and brother of Archie, a mortorcycle racer who was killed during the 1927 Isle of Man TT, 'Tim' as he was nicknamed after his resemblance to cartoon character 'Tiger Tim', was a two-time Le Mans winner and British racing driver who raced for Bentley, Maserati, Alfa Romeo and was known famously as one of the Bentley Boys, a group of wealthy British motorists who drove Bentley to victory during the 1920's. Driving in the fast lane, like his brother, Tim died young, aged just 36 after burning his arm at the Tripoli Grand Prix in 1936.
George Heane  (born Worksop, 2nd January 1904)
A stalwart of the county for 25 years, Heane skippered the side for over ten years during the mid '30s to the mid '40s. A left-handed batsman who bowled right-arm medium, he totalled over 5800 runs and took over 200 wickets for the county. He made 145 consecutive appearances for the county in a ten-year period, and also represented the MCC in three matches. Before his career had begun in county cricket, he was a veterinary surgeon, and he also became a farmer after retiring, as well as being a football player for the county.
Harold Larwood (born Kirkby-in-Ashfield, 14th November 1904)
One of the greatest fast bowlers of his generation, the son of a Nottinghamshire coal miner hit fame during the MCC tour of Australia in 1932/33 for his 'bodyline' approach of bowling which aimed the ball at the opposition batsmen rather than the stumps. Larwood took 33 wickets in the series as England beat Australia 4-1 and at little over 5ft4in tall he often gained extra pace with his low centre of gravity, playing 361 first class matches taking 1,427 wickets for Notts whilst with England he took 78 wickets in 21 tests. Larwood later retired to Australia where he died in 1995 aged 90.
Bill Voce (born Annesley Woodhouse, 8th August 1909)
Slower than Larwood in pace but equally as menacing at the other end with the ball for both county and country, was said to have once walked from his Hucknall home to Trent Bridge in request of a trial and never looked back thereafter. Voce would go on to play 426 first class matches for Notts taking 1,558 wickets and with England, where he would continue his devastating partnership with Larwood, Voce took 98 wickets in 27 tests. Voce died aged 74 in the summer of 1984.
Harold Butler  (born Clifton, 12th March 1913)
Regarded as the county's premier bowler just before and after the Second World War, Butler was an accurate seam bowler, entrusted to take the reins after the Harold Larwood-Bill Voce era. His 952 career wickets came in 319 first-class matches at 24 runs apiece, but his test appearances for England amounted to just two games. He topped the county bowling averages six times in 16 seasons, and captured three hat-tricks in his career. He retired at the 41 after injuring his shoulder.
Peter Taylor (born Nottingham, 4th October 1990)
A footballer with a low-key playing career, Peter Thomas Taylor became a famous name in the sport when he teamed up with the legendary Brian Clough in helping Nottingham Forest to a First Division League triumph and two European Cup successes. Starting out with Forest as a youth player, Taylor participated as a goalkeeper for mainly Coventry City and Middlesbrough. Meeting Clough for the first time in 1965, the two guided Derby County to a second division and then a First Division success in 1972 as well as a European Cup semi the following year. It was then with Forest where Taylor really shone with Clough, with the League and European Cup (in 1979 and 1980) successes, and several other major trophies.
Enid Bakewell (born Newstead Village, 16th December 1940)
Named by Wisden as one of the five greatest female cricket players of all time, Enid was a star in the Nottinghamshire CCC women's team by the age of 14, making her name previously for Notts Casuals WCC whilst attending the Brincliffe Grammar School, before the Newstead born all rounder went on to play for England in twelve tests scoring over 1,000 runs and taking 50 wickets with 23 women's one day international caps to her name. Playing her last international in her forties in 1982, Bakewell scored four test centuries during her career and two one day tonnes and in 2012 became only the third women inducted into the ICC cricketers hall of fame.
Bill Glazier (born Nottingham, 2nd August 1943)
As a goalkeeper, William James Glazier achieved legendary status at another Midlands team Coventry City with 346 league games in an 11-year period. At the time, in 1964, he was the world's most expensive goalie at £35,000. His exploits enabled the side to climb up and compete in the First Division during the late '60s and early '70s. His time at the club got him inducted into the club's Hall of Fame. Some believe he was in the running for a place in the 1966 England World Cup squad, had it not been for a broken leg he suffered at the time. Glazier was actually honoured with a match against an England World Cup XI in 1974 as part of his testimonial.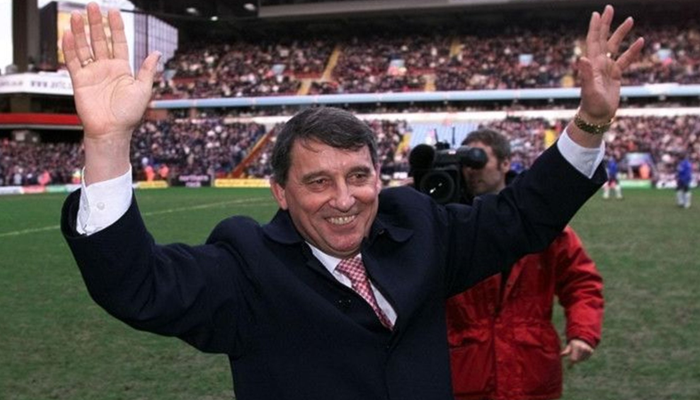 Graham Taylor (born Worksop, 15th September 1944) *pictured above
A footballer in the lower leagues with both Grimsby Town and Lincoln City. Taylor would make his mark in the game more as a Manager than player. Taking on the role of Imps boss aged just 28, then the youngest manager in the football league, he led Lincoln to the fourth division title before a surprise move to Watford in 1977, then owned by Elton John, languishing in the fourth tier themselves, he took the Hornets to the top flight within five years and then a second placed finish and an FA Cup final before getting the job at Aston Villa, who he achieved promotion with and another second place finish in the top flight. That led to a spell in charge of England which was infamously unsuccessful. Taylor returned to club football with Wolves before further spells at Watford and Villa, in January 2017 Taylor died aged 72 from a heart attack.
Derek Randall (born Retford, 24th February 1951)
An England legend who was known for his brilliant fielding but it was with the bat that the Retford Imp would impress most during a career that saw him play 22 years for Nottinghamshire scoring over 28,000 first class runs. With England he made his test debut in 1977 a year after his one day debut, scoring seven centuries in 47 tests over the longer format which included a brilliant 174 against Australia in Melbourne in 1977 and a 150 in Sydney two years later. He famously took the catch that won the 1977 Ashes and celebrated with a cartwheel at Headingley.
Dusty Hare (born Newark-on-Trent, 29th November 1952)
A full back of high quality and one that set a world record for points scored in a career that spanned 18 years. Newark born Dusty started out at his home town club before joining Nottingham RFU in 1971 spending five years at Ireland Avenue massing 176 games and 1578 points before joining Leicester Tigers where he furthered his iconic status. By then, Hare had already made his England test debut and played 25 times for his country as well as touring New Zealand with the British Lions in 1983. Hare also played cricket for Nottinghamshire with ten first class games and seven list A matches to his name.
Paul Hammond (born Nottingham, 26th July 1953)
After starting out as a youth goalkeeper with Crystal Palace at the age of 17, Hammond had an extraordinary career in that he competed for the majority of his footballing days in North America. Jumping between the USA and Canada, and from the NASL (North American Soccer League), to the MISL (Major Indoor Soccer League), he spent around a dozen years abroad, winning the main championship final, the Soccer Bowl, in 1975 with the Tampa Bay Rowdies. He was named the Indoor Soccer goalkeeper of the year in 1979. His time at Palace involved over a 100 league games. After coming back to Britain, he managed Dorset team Bridport FC for a while.
John Birch  (born Aspley, 18th June 1955)
A steady and competent batsman for Nottinghamshire, Birch was one of the heroes as the county won two Championship titles in the '80s. With a batting average of just over 27 and six first-class centuries, he nevertheless made 51 scores over 50 during his career, and contributed 757 and 914 runs respectively in the two successful championship campaigns in 1981 and 1987. With a modest career high score of 125 in 250 matches, he coached the county to the 1991 Sunday League one-day title with 13 victories out of 16 games.
Tony Woodcock  (born Eastwood, 6th December 1955)
A striker with a 42-cap international career, Woodcock was a well-known forward in his heyday, part of the Nottingham Forest team that won the First Division and European Cup titles in consecutive years. With one of the goals that helped the club to win the 1979 League Cup final, he was once voted the club's player of the year. A move to London side Arsenal also saw him top score for the club in three consecutive seasons. He also competed abroad for German Bundesliga side FC Koln, before retiring in 1990 after netting 139 times in 437 league games.
Garry Birtles (born Nottingham, 27th July 1956)
Being part of a team that had major triumphs in the European Cup competition in 1979 and 1980, Birtles can go down in Nottingham Forest football history as a legend in his own right. In two spells with the club he booted in 71 goals in the league in 212 games. He will be remembered amongst the faithful for his two goals in the 1979 League Cup final victory over Southampton, the pass to John Robertson who scored the only goal in the 1980 European Cup final, and his million-pound move to Manchester United. He even played for close rivals Notts County, before ending his footballing career as manager of non-league Gresley Rovers.
Viv Anderson (born Clifton, 29th July 1956) *pictured above
Famously acclaimed as the first black man to play for England after making his full international debut in 1978, right back Anderson was an athletic footballer who was part of the famous two-time European Cup winning Nottingham Forest team that also won the football league championship under Brian Clough. As well as making over 300 appearances for the Reds he played for the likes of Arsenal and Manchester United winning 30 caps for England scoring 2 goals in a 21 year career.
Jayne Torvill (born Clifton, 7th October 1957) Christopher Dean (born Calverton, 27th July 1958)
The two most famous Ice dancers this country has ever produced. The 1984 Winter Olympics gold medal winning performance in Sarajevo was watched by more than 24 million TV viewers in the UK alone, the Bolero setting a record score for a single figure skating programme with twelve perfect sixes. Torvill & Dean would also win bronze in the 1994 Olympics and as a pairing would win four world championships and four European Championships dominating their genre between 1981 and 1994.
Kevin Cooper (born Sutton-in-Ashfield, 27th December 1957)
A more than useful seam bowler for the county, Cooper lived mainly in the shadows of Richard Hadlee and Clive Rice in the 1980s. However, their departure in 1987 saw him take a superb 101 wickets in the 1988 season, a rare feat for a Notts born bowler. A career total of 817 wickets came at only 26 runs apiece, and his accuracy in the limited overs game outshone his more illustrious international colleagues on the county circuit. He also played for Gloucestershire and Herefordshire before taking up a coaching role in New Zealand.
Bruce French (born Market Warsop, 13th August 1959)
Known for his wicket-keeping duties for the England cricket team during the mid '80s, Bruce French was one of the best 'keepers of his generation. He had a fine career with his one and only club Nottinghamshire, winning the County Championship and the NatWest Trophy in 1987, and the one-day Benson and Hedges Cup in 1989. Nicknamed the 'Frog' French spent nearly 20 years at Trent Bridge, and secured 737 catches behind the wicket. With a penchant for mountaineering and rock-climbing, he was also a fine wicket-keeping coach for the England cricket team for a time.
Trevor Morley (born Nottingham, 20th March 1961)
The son of a former Nottingham Forest player, Morley played his football for mainly Northampton Town, Manchester City, and West Ham United in his early days. Competing as a striker, he started off in non-league football after being rejected by Derby County, before helping Northampton to win the fourth division championship, and Manchester City to promotion to the First Division. He also aided West Ham to the top tier Premier League division, before having a fine spell with Reading with 31 goals in 76 league games. His finest hour came when he scored in the Manchester 'Derby' in 1989, in City's 5-1 win.
Steve Hodge (born Nottingham, 25th October 1962)
Despite playing for several clubs, Steve Hodge can definitely lay claim to being a true Nottingham Forest legend. With over 200 league games and 50 goals, Hodge was good enough to represent England 24 times, and help them reach the quarter-finals of the World Cup in 1986. An ever present for the team under Brian Clough, it was the manager who brought him back to Forest for over half-a-million after he had moved to Spurs, and he played a vital role as the team won the League Cup in 1989. It is said that Hodge swapped shirts with Diego Maradona after that famous World Cup defeat, for which it was sold for a record £7.1 million recently.
Chris Fairclough (born Nottingham, 12th April 1964)
A solid and reliable central defender, Fairclough began his career at Nottingham Forest and played in over 100 league games for them as well as competing for the England Under-21 team. His major success came at Leeds United whom he helped win the First Division title in 1992, in the final year before it transformed into the English Premier League. He was one of the key factors in defence which had also aided the side in gaining promotion two years earlier. He came back to Forest to become their assistant first team coach, before nurturing the youth team players at Charlton Athletic.
Marco Gabbiadini (born Nottingham, 20th January 1968)
Another long-serving footballer born in the East Midlands city, Gabbiadini actually had no connection with any of the city's teams due to the family moving when he was young. As a striker, he was a consistent goal scorer with a league career spanning nearly 700 matches. He averaged nearly a goal every two games for Sunderland before spending six seasons at Derby County. In total, there were 11 different clubs, and an impressive 226 league goals. After retiring, he became a successful award-winning hotelier and ran a sports management company.
Andy Cole (born Nottingham, 15th October 1971)
Despite being born in the city of Nottingham, Cole did not play for Forest until the end of his career in 2008 with just 11 appearances. A legendary goal scorer, he was prolific with both Newcastle United and Manchester United. To this day he still has the third highest number of goals scored in the Premier League. He also holds a few other records in the top flight league. And despite only 15 games for England, and just one goal, he has five Premier League and one Champions League success to add to his CV. Cole even recorded a chart song which peaked at number 68 in 1999.
Chris Sutton (born Nottingham, 10th March 1973)
Another football player famous for his performances outside of the city and county, Sutton was probably well known for his forward strike partnership with Alan Shearer at Blackburn Rovers. Known as 'SAS' the pair helped the club to its first Premier League triumph in 1995. As the joint top goal scorer in the 1997/98 season, Sutton was a prolific scorer of goals with an impressive 145 league goals in 362 games for his three main clubs, Norwich, Blackburn, and Celtic. With only one international game for England, he became a manager after retiring before trying his hand as a pundit on television and radio.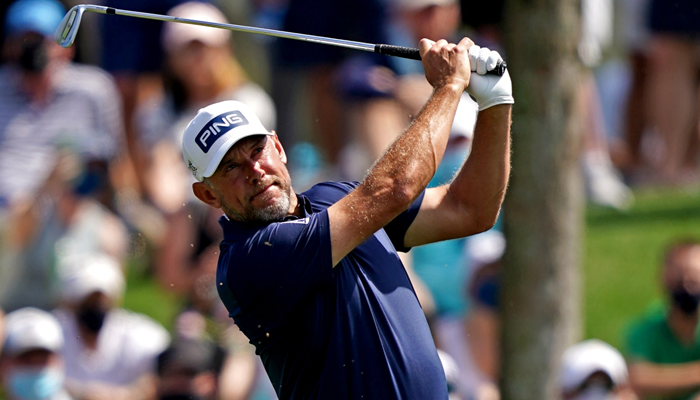 Lee Westwood (born Worksop, 24th April 1973) *pictured above
Unfortunately titled as one of the best golfers never to win a major. Westwood has come close on a number of occasions with a best placed second twice in the Masters and once in the Open, two third places in the US Open and a T3 place best in the PGA Championship. With 44 professional wins though and a career total purse of over $23m his career has been one of the most successful from any English born golfer. A key member of Europe's Rider Cup team, Westwood has three times won the European Order of Merit and four times been crowned European Tour Golfer of the Year. In 2010 Westwood became world number one for a period which ended the reign at the top of a certain Tiger Woods.
Darren Huckerby (born Nottingham, 23rd April 1976)
A crowd favourite at Norwich City and Coventry City, Huckerby played just nine league games on loan for Nottingham Forest. A striker and winger with pace, he formed a good partnership with Dion Dublin at Coventry, and scored over 30 goals in the Premier League. A well-travelled footballer, he ended his playing days at San Jose Earthquakes in the USA. There were two First Division titles in his trophy honours, as well as a Norwich City Hall of Fame accolade. The club gave him a belated 'Greatest Ever' tribute farewell in 2008, and he retired at the age of 33, partly due to an injury.
Carl Foch (born Nottingham, 2nd July 1977)
The Cobra who became three time super-middleweight champion of the world who's final bout against fellow-Brit George Groves at Wembley was fought in front of a then UK record crowd over 80,000 strong. One who never hid away from a fight, Froch competed against the best boxers on the planet in his division and more often than not, came out on top with twelve world title fights in succession prior to retirement. His fighting record ending with 33 wins from 35 bouts, beating the likes of Jermain Taylor, Andre Dirrell, Arthur Abraham, Glenn Johnson and Mikkel Kessler, Froch is largely considered as one of the best fighters these isles has ever-produced.
Paul Franks (born Mansfield, 3rd February 1979)
Would go on to be assistant head coach at the county, Franks was a genuine quick bowler on his day and a reliable batsman. Making his debut as a teenager, he was a consistent performer for Nottinghamshire for over 17 years, even though prone to injuries. He played his part in the 2005 and 2010 championship winning teams, and played a one-day international for England against the West Indies. With 6810 runs and 483 wickets for the county, he contributed to the county's efforts as a fine all-rounder. Before joining up back with the county, 'The General' had a coaching stint in the UAE.
Dan Hardy (born Nottingham, 17th May 1982)
A black belt in Taekwondo and brown belt in Brazilian Jiu-Jitsu, Hardy was a mixed martial artist who fought in the welterweight division with a record of 25 wins and 10 losses fighting successfully for the cage warriors light welterweight and welterweight titles before joining the Ultimate Fighting Championship (UFC) which he fought in on ten occasions. Hardy lost his only UFC championship fight against Georges St-Pierre but notable wins against Marcus Davis, Mike Swick and Duane Ludwig capped a competitive career before going on to feature in Great Britain's team for the 2015 Clipper round the world yacht race.
Hayley Turner (born Nottingham, 3rd January 1983)
One of the most successful female jockeys of all time, Nottinghamshire born Turner has over 850 winners over a 20-year career and was the first woman to ride over 100 flat race winners in a calendar year, which she achieved in 2008. Now based in Newmarket, Turner who was born just a couple of miles from Nottingham Racecourse, has had notable winners in the July Cup and Nunthorpe Stakes back in 2011. A joint British flat racing champion apprentice in 2005 was honoured an OBE in the Queens Birthday celebrations of 2016.
Jermaine Pennant  (born Nottingham, 15th January 1983)
Born in the Meadows area of the city, Pennant began his career as a youth with Notts County before attracting the attentions of London Premier League side Arsenal. Despite making his debut as the club's youngest first team player, Pennant suffered with problems off the pitch, and moved around a succession of clubs during his career. The most league games for one club was the 55 appearances for Liverpool from 2006 to 2009. Pennant managed 24 international games for the England Under-21 team, and one of his best moments came when he bagged a hat-trick for Arsenal in 2003, with three goals in the space of ten minutes.
Jermaine Jenas (born Nottingham, 18th February 1983)
Now a well-known football pundit on television, Jermaine Anthony Jenas competed as a midfield player for various clubs in his 14-year career. Making his debut for Nottingham Forest at the age of 17, Jenas had his main playing spells with both Newcastle United and Tottenham Hotspur, for whom he appeared in over a 100 league games each. Retiring from the game aged just 31 due to various major injuries during his playing days, Jenas did represent England in 21 international matches. Apart from his role on Match of the Day, he has also presented The One Show on the BBC.
Paul Daley (born Nottingham, 21st February 1983)
Semtex is a kickboxer and mixed martial artist with an incredible record having competed in UFC, Bellator MMA, Cage Rage, FFC, Strikeforce, EliteXC and many more with the majority of his later fights coming across the pond in the USA. Daley who is a black belt in Brazilian Jiu-Jitsu fluctuated his fighting since debut in 2003 from kickboxing with a record of 21 wins in 24 fights to an MMA career over 63 bouts. A former Cage Rage world welterweight champion and Cage Rage British Champion, notable scalps include Duane Ludwig, Jorge Mazvidal and Lorenz Larkin.
Wes Morgan  (born Nottingham, 21st January 1984)
A stalwart of Nottingham Forest FC, Morgan began his playing days with Notts County as a youth, before moving to the City Ground in 2002. In ten seasons, he competed in 402 games for Forest, a club record, before moving to near neighbours Leicester City, where he achieved his greatest success. In 277 league matches, there was the football league Championship triumph in 2014, as well as the famous Premier League success in 2016. On retiring, he also added the FA Cup to his tally, and ended his playing days after over 750 professional appearances. A big defender, Morgan also represented Jamaica in 30 international matches.
Simon Francis (born Nottingham, 16th February 1985)
A veteran of 18 years, Francis participated in over 570 league games for a variety of clubs during his career. Having competed for local side West Bridgford Colts, and then for South Nottingham College, he was actually rejected by both Notts County and Nottingham Forest when young. His main playing days were at Southend United and at Bournemouth, whom he represented in nine seasons before retiring in 2020. His defensive play helped the Cherries to secure a place in the Championship division, before seeing them join the elite in the Premier League two seasons later.
Stuart Broad (born Nottingham, 24th June 1986)
Son of Nottinghamshire and England batsman Chris, Stuart not only emulated his father's great cricketing career but surpassed it with some stunning statistics in forging one of the greatest bowling attacks the country has ever produced (along with fellow fast bowler James Anderson). With England he became only the second home grown player in history to surpass 500 test wickets and is sixth on the all time international list for wickets taken. With Notts he has played less frequently but has helped his side to a number of trophies since joining from Leicestershire in 2008.
Rebecca Adlington (born Mansfield, 17th February 1989) *pictured above
One of the greatest freestyle swimmers Britain has ever-produced. Mansfield swimmer Adlington won two gold medals in the 2008 Beijing Olympics and two bronze medals four years later in the games at London. A world champion in 2011 and a European champion in 2010, Adlington also has two gold commonwealth medals and a short course world gold amongst many other stunning accolades in the pool.
*information supplied by Daniel Peacock & Hitesh Darji.