Hucknall Town Reserves 4-4 Beeston (NSL Division One) 14.09.21
Grant Ryan starred in an intense 8-goal thriller at Watnall Road, as Hucknall Town's Reserves battled with Beeston FC to a 4-4 draw that neither team deserved to be on the losing side of.
A bright Hucknall start saw Morgan Bell win an early free kick just inside the Beeston half, which was cleared and recycled by the Yellows into a half-chance for young winger Aaron Lamb, who struck an early shot into the bottom right with accuracy and power off of his weaker foot to make it 1-0 just 4 minutes in.
The lead didn't last long though, as Beeston started to wake up. A rare mistake by Town captain Aaron Roberts saw Jake Pearson called into action, before Josh Hamilton brought down troublesome winger Scott Pickard on the edge of the box. From the free kick, Beeston captain Ben Knight put in a fantastic delivery from the left of the box to the back post, where Jim Caron rose above Lenford Jenkins to nod home the equaliser.
A long-range effort from Lamb went wide before Beeston started to really wake up. Roberts made 2 superb tackles and another interception to stop the Beeston threat, but even he could not stop the beautiful work that was to come from Knight.
After winning it back just inside his own half from Hucknall's Alex Goodall, Knight fed a neat 1-2 with Nathan Hodges to escape a sea of yellow shits, before an excellent burst of pace and some beautiful footwork allowed him to escape 2 more Town players, before teeing it up perfectly for Paul Ireson to slot home for the lead on 28 minutes.
Before the goal, Hucknall had been losing grip of the game, not being able to get Lamb or Ryan on the ball effectively, who had previously been causing all the issues. A change in formation, however, saw Town drop Lamb into the midfield in a bid to get more control of the second sector. And when they did, they got straight back into the game.
After controlling the tempo nicely in the midfield, a seemingly meaningless ball over the top from Hamilton was touched down nicely by Ryan in the right channel, who steadied himself before unleashing an unstoppable effort in off of Davey Gallaghers near post, equalising from nothing just 5 minutes after the Beeston goal.
Hucknall really threatened to run away with the half, as a curling effort from Goodall was seen just wide by Gallagher, before Ryan almost had a second after beating the keeper to a loose ball, but Beeston's Dave Wakefield got back superbly to clear off the line.
Ryan wasn't to be denied though. Again, fashioned from nothing, Ryan received the ball to feet some 25 yards out from goal, after working himself half a yard, he struck a beauty into the bottom left from distance that Gallagher could do nothing about, securing a first half brace for himself and a 9-minute turnaround for Hucknall before half-time.
The pace of the game didn't threaten to die out in the second half, thankfully. An early Hucknall free-kick was cleared well by Wakefield, before Lamb let a powerful through-ball get away from him as the action got back underway. Roberts was called into action yet again as Ireson threatened to break in, tackling well as the winger tried to get away.
A nothing ball over the top of the Beeston defence was audaciously back-heeled out of the air towards goal by Ryan, but Gallagher saw the near Puskas award winner safely over the bar. Hucknall were safely dominating the game as Louis Kinnerley struck over from range, before a keeper mistake got Beeston straight back in.
A hopeful ball into the centre from Kieran Whalin wasn't dealt with well enough by Pearson, and it fell to the feet of Scott Pickard, who weaved some space between Jenkins and Roberts to loft it past the keeper for 3-3. Another goal which came from nothing, it seemed that whoever was dominating the possession and chances were the least likely team to score at this point.
Aaron Lamb picked up a dubious booking after rolling the ball away from Joe Quilliam, before another hopeful long-ranger from Ryan, and then subsequently Kinnerley, were both well saved by Gallagher, before Hucknall broke through yet again with Ryan's hat-trick chance.
It was another quality delivery from Morgan Bell, and this time Grant Ryan rose highest, as he had been all evening, to win the header and glance it into the bottom corner to break Town through yet again.
It went slightly awry for Ryan, however, as he was yellow carded and subsequently sin-binned for dissent. Toby Birch came on to fill his striker duties as Hucknall were temporarily with 10 men. Another substitute, this time from Beeston, then made an immediate impact in his absence.
On for Pickard at the left wing, Tom Coupe swept in a bobbly cross in which didn't seem too threatening, until Hucknall's Pearson tangled with Whalin as the ball ran through for Ryan Knight to smash home a goal to add to his 2 assists.
Jack Gent replaced Whalin for the visitors, before the game started to get scrappy.Kinnerley took on another long-ranger from a free kick, which went narrowly wide, and some excellent 'keeping from Gallagher denied Bell, before Wakefield immediately denied Birch.
Somewhere along the way there was a yellow card for Hucknall manager Danny King, before Beeston spurned a gorgeous chance to take a late lead. Another dangerous cross from Coupe was cleared into the feet of Ireson, who struck a poorly timed effort wide of the target with glory at his mercy.
Toby Birch's night was brought to a brief and unfortunate end as Davey Gallagher wiped him out in a 50/50, before a late free kick was launched into the Beeston area to no avail, before referee Michael Mrozek blew for full time on a wildly entertaining spectacle.
Man Of The Match: Grant Ryan
You'd think that would be an obvious choice with his hat-trick today, but with such a big contribution to the score from both teams, there were a couple of contenders, in particular Beeston's captain Ben Knight, who played out of his skin as well as getting 2 fine assists and a great goal to his tally.
He was, however, bested by the big man on his return.
2 outstanding finishes and a trademark header from "Rhino" were complemented by an outstanding performance of hold up striker play. Absolutely dominant in the air and showcasing an excellent range of passing and space creation throughout the whole 90 minutes, not even a sin bin could change my mind that Ryan richly deserves the man of the match award tonight.
A vastly entertaining game and free entry on the night leaves me a happy journalist and both sets of fans happy with the result. An excellent spectacle of football with Kirby Muxloe up next on Saturday for the seniors. With Ryan back and ready to go, if they can get him on that sort of form on the weekend, they should have a lovely day out in Leicestershire. Final score Hucknall Town Reserves 4-4 Beeston FC.
Hucknall Town Reserves: Jake Pearson, Josh Hamilton, Lenford Jenkins, Aaron Roberts, Louis Kinnerley, Jamie Slack, Morgan Bell, Sam Bulgin, Aaron Lamb, Alex Goodall, Grant Ryan. Subs: Toby Birch, Ryan Butler.
Beeston: Davey Gallagher, Joe Qulliam, Nick Knight, Dave Wakefield, Tom Teece, Ben Knight, Nathan Hodges, Jim Caron, Scott Pickard, Paul Ireson, Kieran Whalin. Subs: Jack Gent, Tom Coupe, Henry Sainsbury.
Venue: Watnall Road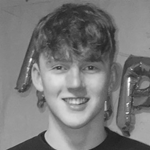 *Article provided by Louis Wheeldon (Football Correspondent).
*Main image @R9NOH Grant Ryan in action for Hucknall Town.