Not a lot of people know that during their early years, Nottingham Forest Football Club were not just a one sport soccer shop. Popular with playing Bandy and Shinty (similar to hockey, on and off ice) the club also played Baseball, and in 1900 they even beat 'them' from down the road to win England's National Baseball Championship.
Modern baseball although played in Britain during the mid-late 1800's, really caught on first in the United States of America and by the 1870's, teams such as Boston Red Stockings, Chicago White Stockings (now Chicago Cubs) and Philadelphia Athletics, would tour England to help popularise the sport in this country.
With the Americans arrival proving a popular success, it wasn't long before the nations 'first' professional baseball championship was introduced on these shores.
Only four teams took part in the inaugural competition, in 1890 when Aston Villa, Preston North End, Stoke and Derby would all enter teams from football back grounds. Derby playing their games on the Ley's Recreation Centre which was later named 'The Baseball Ground' due to its famous pitching past.
Professional players took a maximum salary of £15 plus expenses, gates were in excess of 5,000 whilst the wealthy Francis Ley, the Derby Chairman and Founder, would employ three talented Americans at his iron works, to allow them to play and coach his team in the National League.
Derby also included locally born Dan Allsopp, a Great Britain International who captained the team, a goalkeeper who would go on to play 200 times for Nottingham Forest (winning the FA Cup in 1898) and who wasn't too shabby on first base, the team were good, thanks largely to the Americans (Riedenbach the pitcher, Bullas who went on to play Major League and Bryan an Army soldier who coached tactically), but the rest of the competition in the National League didn't like it, and after over 20 matches played, Derby would resign from the league, stating poor attendances for their resignation, whilst self-proclaiming themselves champions of the competition.
The league however named Aston Villa first ever champions, with Derby's records expunged, and despite Chairman Francis Ley, immediately setting up another club from the town, based at the same location, the competition was in turmoil with both Aston Villa and Preston accused of cheating, it would be the only ever season of professional baseball in this country as the National League was left in disgrace, tatters and ruin.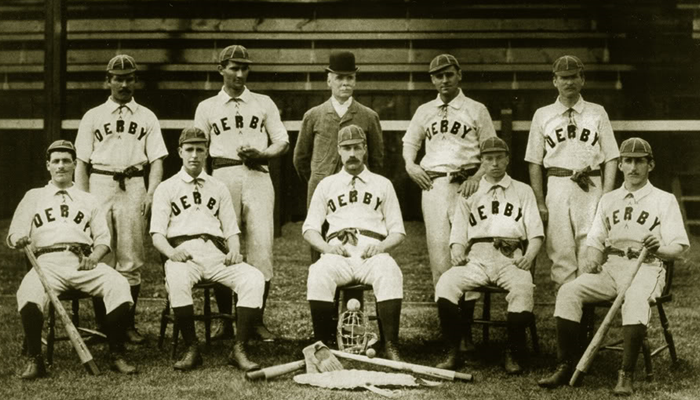 *Pictured Derby Baseball Club with Dan Allsopp top left and bottom left the great Steve Bloomer.
Two years later the competition was re-introduced but for amateurs, and Middlesbrough would go on to take the title, before back-to-back wins for Thespian London, Derby Baseball Club, including legendary record-breaking England and Derby County centre forward Steve Bloomer in its team, would get in on the act to win the 1895 title and two years later they would be back to beat Middlesbrough in the Playoffs, before winning again in 1899 when they would thump first time finalists Nottingham Forest 14-3 to lift the last championship of the 19th century.
A year later however, in the summer of 1900, Nottingham Forest would be back… And in the colours of red and white, against his old club, a certain Mr Dan Allsopp.
Forest crushed Ilkeston in the first round of the competition by 37-7 with Cookson and Robinson in the outfield taking some brilliant catches and Allsopp, at his favoured first base, said to be smart in the field.
Against Belper, in the semi-final they eased again to victory, 46-9 but in the final against a talented Derby, who had won the competition three times previously, it would be by no mean feat.
Rained off from the original date of Saturday 20th August 1900, the game was eventually played five days later and was an edgy affair against two evenly matched sides, but Forest had the advantage early on before being pegged back. The Project Cobb website stated "Nottingham scored 3 runs in the first and third frames, but Derby tied the game in the bottom of the third; Nottingham scored all their other 11 runs in a single inning later in the game; Derby trailed 17–6 with three outs remaining and valiantly rallied for 10 runs, but this was one too few to restore parity for a second time."
Whilst Baseball GB announced via press archives "This match was played at Derby (the Baseball Ground) last night before a good attendance (said to be in the region of 5,000). Forest batted first and scored three, to which Derby were unable to reply. Derby, however, drew level at the third inning when the Forest put on three more. A score of 11 by the Forest put a different complexion on the game. A most exciting finish was witnessed, Derby putting on ten in their last innings and only losing by one run, the score being: Forest 17, Derby 16."
Either way it was pronounced, Derby's comeback too little too late, to stop Nottingham Forest becoming National Baseball Champions of the United Kingdom, and thus latterly becoming one of only four teams, Aston Villa, Middlesbrough (all be it second tier), Forest and Tottenham Hotspur, to win the Football League and National Baseball Championship, two sports, two major successes (Derby Baseball Club were not directly connected to Derby County Football Club).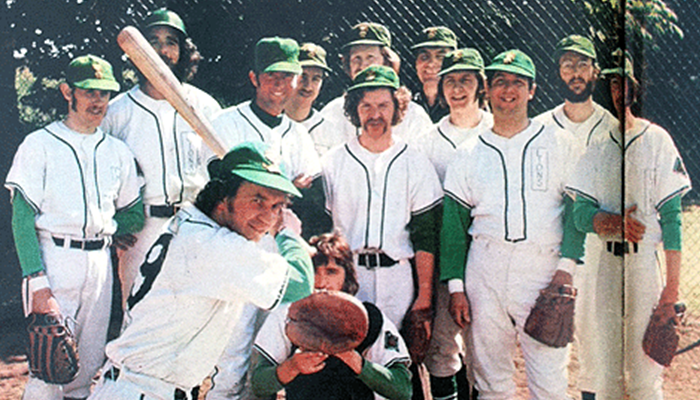 *Pictured the Nottingham Lions team of 1974 that won the
After Forest's incredible success and the 19th Century Baseball boom, the game dwindled in the UK during the early part of the 20th Century and fell from its almost annual event to be played much more sparingly (not helped by two world wars), but since 1965, there has been a National Champion every year, in 1974 Nottingham Lions beat Hull Royals 5-3 to take the title (thanks largely to a brilliant pitching performance from Mike Harold), before losing to Liverpool Tigers a year later by the same score line in the playoff final, more recently the game has been dominated through by London Mets, based at Finsbury Park, who have taken the BBF (British Baseball Federation) top title seven times since this Millennium, having won five of the six last playoffs.
But who would have thought, that Nottingham Forest Football Club, once upon a time, were not just innovators with balls at their feet, with hockey sticks too, baseball bats and gloves, shinguards, they really well, did it all.
*Article provided by Daniel Peacock (Editor).
*Main image @ProjectCOBBUK Nottingham Forest and the winning baseball team of 1900.