Evening All,
Saturday 19th November my monthly residency visit to Cromwell Lakes. Arriving at a very busy lake. On arrival only three pegs available for choice. After a brew and a natter with the boss Nathan, peg 18 it was. Probably my favourite peg on the lake with my Mirror PB of 37.8lb coming from this peg. However this is the shallower end of the lake and as the conditions are not favourable at this time of the year, only grace being, Nathan had seen fish in front of the house in the last couple of days.
Conditions again as October, proved pretty grim. Heavy drizzle and a facing wind. Bivvy up bed chair out and the rest of my gear sorted in quick time.
So my choice of bait, 11mm pellet coated in garlic oil & garlic salt. I normally soak 2-3 hours in advance. This gives off a nice oil slick in colder water. Only adding a small scoop into the baitboat.
So Rigs, A lead clip set up 3oz lead with a 4-5 inch hook link. Size 7 armo hook knotless hair rig with a 15mm wafter, small piece of fake corn and a 15mm milky toffee pop up.
After getting Three rods out onto the spots it was time for a beer. As requested by an Insta follower my choice of beer for this visit was Budweiser. (It is the World Cup after all. Thanks for your message Kighty).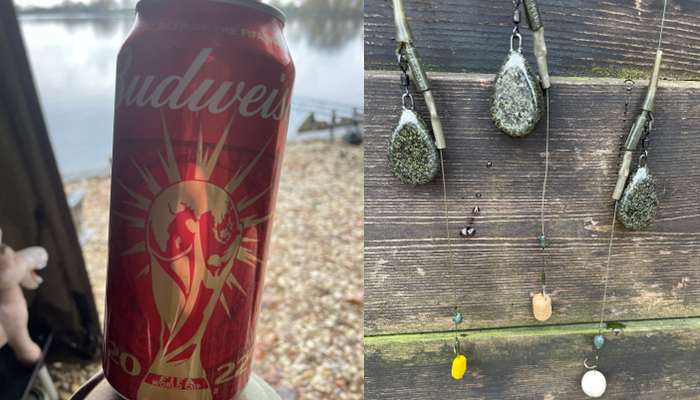 A very quiet afternoon, I made the decision to move my rigs into deeper water. Fishing in 3-4 feet of water the Coots And Swans were picking my rigs up and eating the bait.
Changed to 4-5 feet and just deep enough to keep the wildlife at bay.
So around 6pm time for tea! Lamb Kofters with salad, Red onion, Garlic Mayo and a hot lick of Chilli Sauce with a nice cold bud to wash it down.
Off to bed around 9pm. Nights are really long in winter as it's dark not much after 4pm so I'm in bed with F1 qualifying on the ipad.
A pretty rubbish night it was, to be with a lot of rain and some very noisy ducks.
I managed to drag myself out of bed around 7am for the last chance saloon to nick a bite while I packed down my gear. As if by magic a big common showed within a few feet of my baited spot.
Dragged my middle rod in and a small bag of pellets with a little squirt of orange goo, I hit the spot next to where I saw the fish show.
No luck and it was time to barrow the gear into the car.
Always tough this time of year but December booked for the next encounter of #NOVEYGOESFISHING.
Until next time.
Tight Lines
Novey
*Article provided by Matt Nowak (Fishing Correspondent).
*Main image @mattnowak the Sherwood Forest Fishery on a lovely Autumn day.