Good day to our avid readers of Nottingham Sport,
And a happy New Year to you all.
So managed to get back to my monthly visit to Cromwell Lakes on a mild(ish) January morning. The heavy drizzle not putting me off once I arrived. A quick chat with the gaffer Nathan and Peg 1 was the preferred location for my 24hr session. A cool North westerly blowing nicely into the corner of peg 1.
The peg had been vacant for a couple of weeks so I was hoping a few fish were holding up in the snags.
Tactics for the session, Single Pop Up piece of fake corn over a pellet and crushed maize with a little hemp oil for attraction. Second rod, Pineapple Pop Up soaked in Orange goo. The the 3rd rod a 6ft Zig with a piece of Black foam. Taking the second rod out I picked a couple of fish up high in the water so a zig was a good shout.
So that was me set up for the time being. iPad on, Saturday Footy the option. Maybe a little flutter as well.
Drink of choice today No beer I'm afraid, just a nice Port and Lemonade.
Triple Choc Shortbread was today's biscuit of choice. Request sent in by JD on FB.
A quiet afternoon/Evening as around 4.15pm the rods were in for a rebait and back out onto the same spots again.
Onto Tea, Tonight's choice Minted Lamb Koftas with Red Onion, Cabbage and a nice Flatbread.
The wind picked up during the night and made sleeping a little difficult. After dozing off around 11.30pm, the middle rod gave a few bleeps and got me up and out of bed. Unfortunately by the time I got to the rod it was all quiet. Back to bed again, then the same thing happened around 7am to no avail. Back up at 8am to start packing the gear down and thinking another slow session was on the cards again.
Around 8.30am BIG drop back on the middle rod. Were in!
After a short battle and whipping my other two rods out, this beautiful little Mirror Carp graced the net. By no means Cromwell's biggest fish in the lake but sure was a welcome sight. Blank saver.
A couple of shots and back she went.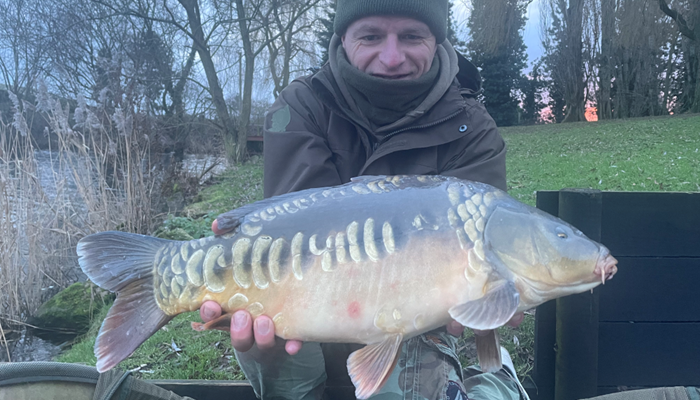 So a great start to the New Year and finally getting off the mark for you guys.
Hopefully get the puddle sticks out soon for the next adventure.
Tight Lines
Novey
*Article provided by Matt Nowak (Fishing Correspondent).
*Main image @mattnowak the Sherwood Forest Fishery on a lovely Autumn day.