Nottingham Forest, despite overall dominance of the matchup on Saturday, fell to a point against recently-promoted side Luton Town, who secure their fifth point of the season, leaving the Hatters just outside of the bottom three – a real feat for a team who've spent as little as they have, and given the circumstances of the Reds surrendering a two goal lead at the City Ground.
The First Half:
In regard to Forest, the half started incredibly positively. Early chances from Chris Wood & Sangare showed Forest's intentions for their game plan: attack, press high, force an error, and make their move – Wood has faced some criticism, much of it possibly earned, but he was starting to show some promise early on for Forest. Luton would also try to make their mark early on, with Forest seemingly 'switching off' on the odd occasion, but would fail to do more than try.
Forest controlled the possession, and a strong midfield created this; Dominguez' reliability & leadership kept his peers on their toes, Sangare's work-rate & counter-play scared Luton's midfield, and Mangala's ability to keep the ball and move it to the next man made him a real threat: all three deserve credit for that first half performance. All played their roles excellently.
Defensively, Forest looked well; Toffolo, Boly & Murillo consistent, and in-form, whereas, despite previous good performances, Aurier seemed off the mark, and struggled to make his mark.
With how the half went, and the chances had, Forest really should have ended the half at least a goal or two up; Sangare came closest at the end of the half, but somehow sliced it far wide of the Luton goal — golden opportunity missed.
Score level after the first forty-five plus added time.
The Second Half:
Once again, Forest the better team starting the second half; Edwards' Luton moved to a back five, utilising Wing-backs, hoping to take a foothold on the game now.
However, Forest would eventually get the goals they had worked so hard for, as on-running Chris Wood finds a superb ball from Anthony Elanga, and slots a shot pass Luton Goalkeeper, Kaminski, to make it a 'goal to the good' for Cooper's men. 48th minute opener, a grand start to the second half. The Reds would once again stamp their mark on the game, and it's Chris Wood again to score his second of the game, getting his head on the superb end of a Elanga cross – two goals for Forest, two goals for Wood, two assists for Elanga; all the minerals for a runaway three-point victory, but time was on Luton's side, in a way…
A Free-kick comes in, Aurier ducks, and some scrambling leads to an Ogbene shot, and a late comeback goal for Luton in the 84th minute; Forest's new subs [Worrall, Aina, Williams & Yates] having a nightmare start, but Forest were still the better side overall at this point. Luton wouldn't let this opportunity of a point, or more, pass however: a quadrant of their men running into Forest's half after the match had resumed, and fought with real conviction – before you knew it, an equaliser followed. A long ball played into Adebayo, who seemingly manhandled Forest captain Joe worrall off the ball, before firing it past Matt Turner; an appalling ending for Forest, but a well earned point after a superb last push by Luton.
One quote that particularly resonates with this game is: "the game isn't over until the whistle blows," and while Forest didn't lose, there is comparisons to Fulham/Bournemouth at home last season – complacency cost, and for me, Coopers substitutions weren't the correct ones. Being too defensive cost Forest against Luton.
Even with this said, Forest's calmness on the ball, and stronger attacking play has made them seem a real threat in the Premier League — there is certainly positives, but the final ten minutes let the side down, and so easily covered up the hard work done over the previous time.
Forest two, Luton two, after 98 minutes.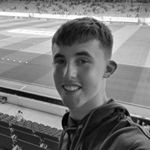 *Article provided by Jamie Martin (Head Nottingham Forest Correspondent).
*Main image @NFFC Morgan Gibbs-White in action for Forest against Luton.