Ola Aina: From unknown transfer to cult hero – he's taken the Forest fanbase by storm
Arriving from Torino on a free transfer in the summer, in a deal nobody knew about until hours before he signed, Ola Aina was once a mystery man for Forest fans, now the opposite – an intelligent, fast, footballer with a perfect attitude. Ola Aina has shocked Forest fans, and become somewhat of a cult hero.
Who is Ola Aina?
Temitayo Olufisayo Olaoluwa Aina, or as he's known, Ola Aina, is a Nigerian Professional football player who currently plays for Nottingham Forest, after joining the club on a free transfer upon the expiration of his contract at Serie A side, Torino.
At 27 years old, Ola Aina boasts experience with top level clubs such as Chelsea, Fulham & Torino – before joining Forest – including 30 appearances for the Nigerian national team.
Since leaving Chelsea, Aina's career lead him to be forgotten by many Premier league football fans, but even after some setbacks, and injury issues, the full back is now back in the Premier League, and despite arriving as somewhat of a "mystery man", he's become a sort of cult hero in recent times at Nottingham Forest; he's found his confidence, and his form – Steve Cooper is getting the best out of him.
His time at Forest, so far…
Arriving on a free transfer, in what was, in a way, a "shock transfer" – mainly due to the spontaneity of reporting that a deal had been agreed, and that he'd sign – many Forest fans had no idea what to expect; highlights reels on YouTube only told you, really, what you "wanted to hear," so understandably, a bit of mystery around whether he's what Forest need. With Renan Lodi's return impossible (due to Marseille move), a new left-back was needed. Ola Aina would sign for the club, and even though he was predominantly right-back, would learn to become a superb left-back.
Despite being more of a left-back at Forest, Aina has been present on the right side also, typically replacing Serge Aurier, whether that being on a basis of form or availability. After a strong pre-season, Aina earned his starts in the coming Premier league campaign; strong performances against top sides early on, despite the results, started to earn him some praise from the fanbase – a top performance during the Chelsea win helped gain more traction; Aina was starting to be noticed, and for all the right reasons.
A small injury caused concern, but he soon made a comeback – his most recent performance, and probably his most outstanding to date, in the win against Aston Villa, saw him score his first game for Forest, and at the City Ground – a special moment for a player that, at one stage, many Forest fans expected to be nothing more than a "depth" signing.
From making a crucial sliding tackle in his in box one moment, to sprinting at incredulous pace down either wing, Aina's tactical versatility makes his a treat for Steve Cooper, and a weapon other sides will/should fear.
What does the future look like for Aina in this Forest team?
In my view? In the first team. Ola Aina's quality was superbly portrayed in the game against Aston Villa – a, quite literally, Man Of The Match performance. Whether it be the reading of runs, excellently timed tackles in dangerous/critical areas, and just overall work rate; he has earned the right to first team football. A consistent cog in the Forest machine.
Should Forest keep both him & Harry Toffolo fit, I'd be inclined to keep those two as full backs – both offering lots going forward, while also being excellent in the defensive quarters. Maybe Aurier being dropped for Aina seems a rogue suggestion, but I'd say that if Steve Cooper is picking his teams based on form, that would surely be the most likely outcome.
Availability issues seem to be one of the few caveats concerning Ola Aina being selected for the first team, but with good management, I'm sure they could manage his game time sensibly – Serge Aurier/Neco Williams are ready to cover, if needs be.
Full backs have been a subject of interest for Nottingham Forest in recent years, but Ola Aina has proved to be a gem; when I watched him in pre-season, even with the poor performances, he shone – his pace and decision making really is superior in many aspects, I was a massive fan then, and am a bigger fan now. He's a perfect fit for this Forest team. So much more to his game than simply defending, which I suppose the modern, Premier League standard game, demands: and he delivers.
Ola Aina is making his name known at Nottingham Forest, this is the start of something very, very special.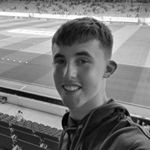 *Article provided by Jamie Martin (Head Nottingham Forest Correspondent).
*Main image @NFFC Ola Aina enjoyed his first Forest goal against Aston Villa.