Nottingham and the county of Nottinghamshire has many adopted sons and daughters who have over the years done the city proud through a sporting perspective. They may not necessarily have been born in the city, but when it comes to stardom and fame, they have represented the Robin Hood region to the best of their capabilities whilst often leaving great memories to those who watched them represent with pride. So take a look below at some of those biggest and best names to have helped put Nottingham on the sporting map through their own personal success.
John Dixon (born Grantham, Lincolnshire, 27th May 1861)
A competent batsman in the late 1800s, Dixon once broke Arthur Shrewsbury's record of the highest individual score for Nottinghamshire with an unbeaten 268. A member of the team that dominated county cricket at the time, winning several 'Champion County' titles, he was the captain when the title was shared in 1889, and went on to skipper for another ten years. He also represented England in an international football game in 1885, having also competed in the sport for Notts County during the same period. After over 20 years in the cricketing game he retired after taking part in 253 matches and scoring over 9500 runs.
Willis Walker (born Gosforth, Northumberland, 24th November 1892)
A dual sportsman, Walker played soccer for various teams in the Football League during the 1910s to 1920s era, and also first-class cricket for Nottinghamshire CCC. With over 300 league appearances as a goalkeeper, Walker represented such teams as Doncaster Rovers, Leeds City, South Shields, and Bradford Park Avenue. In a 25-year career with the county, he notched over 18,000 runs in just over 400 matches. He managed a 1000 runs or more in nine consecutive seasons. Walker passed away at the age of 99.
Arthur Carr (born Mickleham, Surrey, 21st May 1893)
As one of the main exponents of the 'bodyline' theory in the 1930's, Carr captained both Nottinghamshire and England, but ended his career on a disappointing note both for club and country. With Harold Larwood and Bill Voce helping Nottinghamshire to a County Championship win, inevitably the tactic of bowling at the batsman's body backfired on him and he was stripped of the county captaincy in 1934 which put an end to his career. Nevertheless, Carr was named a Wisden Cricketer of the Year, and accrued over 21,000 runs with 45 centuries during his career.
Jimmy Sirrel (born Glasgow, Scotland, 2nd February 1922) *pictured above
An inside forward who started his career in Scotland with Celtic, Sirrel played the lower leagues of England with Bradford Park Avenue, Brighton & Hove Albion & Aldershot before cutting his teeth in management at Brentford. After two years in charge at Griffin Park, Sirrel moved to Notts County and made an immediate impact, registering two promotions in four years taking the Magpies from the Fourth Division to the second tier of English football. Sirrel moved to Sheffield United in 1975 but returned to Meadow Lane in 1977 and went one step further, taking Notts into the top flight for the first time since 1926. The Magpies under Sirrel produced some of their most memorable football with a talented side playing at the pinnacle of their game, the man at the helm, a confident and assured character who will always be remembered by supporters as a true legend of the game for what he did at Notts. Sirrel died in Nottingham on 25th September 2008.
Gamini Goonesena (born Colombo, Ceylon, 16th February 1931)
The first Asian cricketer to captain the Cambridge University team, the leg-spinner from Sri Lanka played a total of 94 matches for Nottinghamshire, recording over 2000 runs and taking nearly 300 wickets in his 12 years at the club. He achieved the double of 1000 runs and 100 wickets in a season twice. A true all-rounder, Goonesena also represented Ceylon (now Sri Lanka), and the New South Wales team in Australia. He still holds the record score by a Cambridge player in University matches against Oxford. In the final first-class match of his career, he took ten wickets in the game.
Brian Bolus  (born Leeds, 31st January 1934)
A steady cricketer with average career figures, Bolus spent ten years at Trent Bridge, and had the distinction of scoring a hundred out of a total of 159 on his one-day/limited overs debut. When moving to Derbyshire, he became the first cricketer to captain two different county teams in successive seasons. With a test average of 41 in seven tests, he eventually accumulated over 25,000 runs in a 19-year career. He once dismissed England bowler Alan Ward from the field of play when the paceman declined to bowl during a game for Derbyshire.
Brian Clough (born Middlesbrough, 21st March 1935)
Famously quoted "I wouldn't say I was the best Manager in the business, but I'm in the top one" and not many from the red half of Nottingham would disagree with that statement as the much loved Clough, along with his sidekick Peter Taylor, joined struggling second division side Nottingham Forest in 1975 and within five years turned them into Champions of England and double European Cup winners. As a player he scored 267 goals in 293 games for Middlesbrough and Sunderland before injury cut short his career. In management however he would excel even more prominently, first taking Derby County out of the second tier to their first ever top-flight title, before doing exactly the same with Forest and some more, just a few years later. A unique and charismatic legend known around the globe. Once even Muhammad Ali was said to have mocked his outspoken ways by suggesting "Clough you're a duff" in response to those comments Clough jokingly stating "I'm going to fight him". Clough died in Derby on 20th September 2004.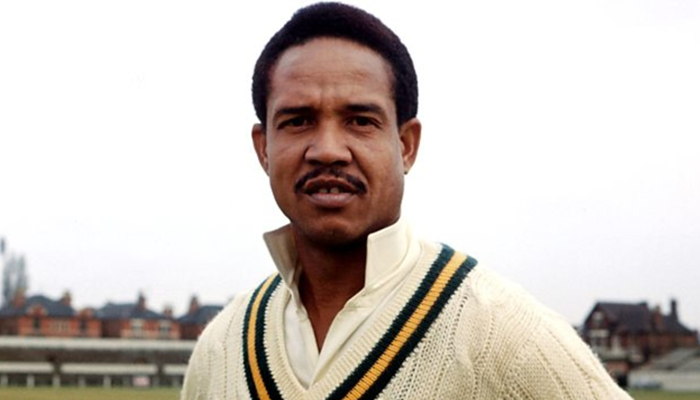 Garfield Sobers (born Bridgetown, Barbados, 28th July 1936) *pictured above
The West Indian legend played 93 tests scoring over 8,000 runs at a batting average better of 57 with a renowned top score and world record at the time of 365 not out scored against Pakistan in 1958. At Nottinghamshire whom he captained over two spells from 1968-72 and during 1973, Sobers famously hit six sixes in an over at Glamorgan and topped the clubs batting averages for three out of five seasons he was at Trent Bridge. A left arm fast bowler he also took 235 test wickets with over a thousand more first class notches to his name.
Basharat Hassan  (born Nairobi, Kenya, 24th March 1944)
Having played club cricket in Kenya, Hassan came to England and made his debut for Nottinghamshire in 1966. He played his entire county career at the club, spanning a total of 329 matches. Despite having a batting average of just under 30, he was noted for his superb fielding in the cover region. During his final season in the game in 1985, he was called up by England as 12th man for the test match at Trent Bridge. He became the county's development manager and club president after retiring. Hassan became well-known for his crouching stance at the crease, and has a 'cult hero' status at the county.
Mike Bore  (born Kingston upon Hull, 2nd June 1947)
Though starting out playing for his home county of Yorkshire, Michael Bore's claim to fame came in 1984 when his batting nearly won Nottinghamshire the County Championship. With a career batting average of under ten, he struck the penultimate delivery of the season into the hands of a boundary fielder, having needed a boundary to secure the title for his team. His left-arm medium pace bowling brought him 372 wickets in 159 first-class matches. After retiring, 'Noddy' (his nickname), became a coach in the Yorkshire league.
Les Bradd (born Buxton, Derbyshire, 5th November 1947)
The all-time leading goalscorer of Notts County Football Club and a complete gentleman too. Quite simply one of the nicest men in football but try saying that to the centre halves he did battle with during the 1960's and 70's who'll have a most different opinion on him. Bradd was a big strapping striker scoring 125 league goals for the Magpies in eleven years and 398 games before moving on aged 30 to Stockport County in 1978. In much later years Bradd since worked at the club as an honorary ambassador and is often attending the clubs home matches meeting and greeting with fans.
Eddie Hemmings  (born Leamington Spa, Warwickshire, 20th February 1949)
A veteran of nearly 30 years in first-class cricket, Hemmings played in 518 matches and took 1515 wickets with his off-spin bowling. He appeared in 16 test matches and 33 one-day internationals for England, performing well in the 1987 World Cup as the team reached the final. With Nottinghamshire, he achieved the Championship and One-Day Trophy double in 1987, and then hit the winning boundary in the Cup final in 1989 off the final ball. He retired at the age of 46, having also taken ten wickets in an innings in 1982, at the cost of a record 175 runs.
Clive Rice (born Johannesburg, South Africa, 23rd July 1949)
In nine seasons as captain, the all-rounder from South Africa helped Nottinghamshire to win two County Championship titles in 1981 and 1987. A talismanic figure for the county, Rice was a hard-hitting middle order batsman and a pace bowler capable of fast speeds on his day. As one of the leading all-rounders of his generation, he was unfortunate not to play any test match cricket due to his country's sporting isolation. For Notts he amassed over 17,000 first-class runs at an average of 44, and took 476 wickets at 23 apiece. He was also a productive performer in the limited overs games.
Peter Shilton (born Leicester, 18th September 1949)
England's all-time leading appearance maker with 125 international caps played an astonishing 1,005 league games in a 35-year senior career which saw him move to Nottingham Forest for a British record fee for a goalkeeper in 1977 and in 272 Reds games, won the Football League Championship, the Football League Cup and twice the European Cup. A world-renowned goalkeeper who in the Reds Championship winning season of 77/78 was named PFA Footballer of the Year.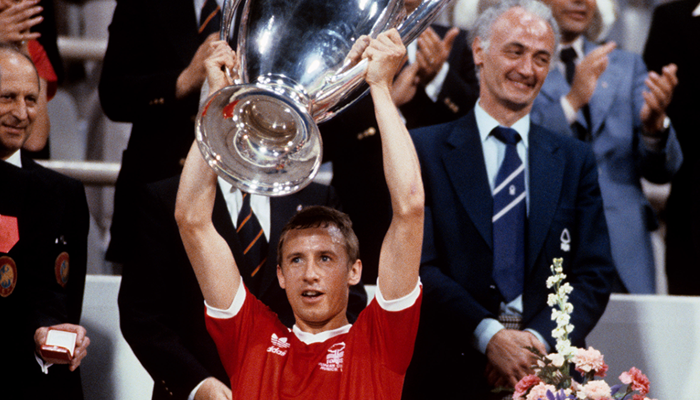 John McGovern (born Montrose, Scotland, 28th October 1949) *pictured above
Captain of the Reds championship winning team of 1977/78 and the man who twice lifted the European Cup for Nottingham Forest. McGovern was his Manager Brian Clough's go to footballer, having moved with him to the City Ground from Leeds United, he had previously played under Clough at both Hartlepools United and Derby where he also won the Football League title. McGovern left Forest in 1982 after 334 games and later enjoyed a managerial career that ended at Ilkeston Town in 2003.
Richard Hadlee (born St Albans, New Zealand, 3rd July 1951)
Undeniably the greatest bowler to play for New Zealand cricket, Sir Hadlee was probably the best overseas player in the history of Nottinghamshire CCC. With 622 wickets at an average of 14.51, and 5854 runs in 148 matches, he was the main architect of two championship triumphs in the '80s. In three full seasons, he took 105, 117, and 97 wickets in each campaign. In 1984, he completed the double of 1000 runs and 100 wickets. It was more of the same for his country, with a fantastic 431 wickets in only 86 tests. He held the record for top wicket-taker in test history at the time. Not surprisingly, for a bowler who was rated one of the best of all-time, Hadlee was knighted in 1990.
Martin O'Neill (born Kilrea, Northern Ireland, 1st March 1952)
Perhaps better known as a football manager and former television pundit, O'Neill was one of the major factors during Nottingham Forest's success in the late '70s. With one First Division championship, two European Cups, and two League Cups, he was at the heart of the midfield line-up under the management of Brian Clough. He was the Northern Ireland team captain at the 1982 World Cup, and there were 64 matches in all for his nation. O'Neill was also a high profile coach with Leicester City, Celtic, with whom he won the League three times, Aston Villa, and the Republic of Ireland. He recently came back to the City Ground to manage, but stayed for only six months.
Trevor Francis (born Plymouth, 19th April 1954)
Coming from Birmingham City for a record fee, after a stint in the USA, Francis became famous overnight as the first British million-pound footballer. His selection was justified as he helped Forest win the European Cup in 1979 with a low header, in the only goal of the game in the final against Malmo. A short spell with the side saw him net 37 times in 93 matches, and he continued to play for a number of clubs around the world. He appeared in 52 internationals for England, and participated in 626 league games in his career. He actually helped Forest retain the European Cup the following year as well as beating Spanish side Barcelona for the Super Cup title. He went on to manage a few teams after retiring.
Chris Broad (born Bristol, 29th September 1957)
Signed from Gloucestershire in 1983, the 6ft4in left-handed batsman joined Nottinghamshire and quickly forged his way into the England set up playing a memorable part in the 1986/87 Ashes series down under. At Notts he helped the side to a 1987 County Championship title and NatWest Trophy success as well as a 1989 Benson & Hedges Cup win and Refuge Assurance League success in 1991. Scoring over 30,000 runs in all formats, Broad had an average of 39.54 in 25 tests with England. Father of modern-day legendary bowler Stuart, Chris became an ICC Test Official in 2003.
Franklyn Stephenson (born Saint James, Barbados, 8th April 1959)
From the sunny island in the Caribbean, the man with the legendary 'slower ball' was a dependable fast bowler for Nottinghamshire cricket. Stepping into the shoes of the departed Clive Rice and Richard Hadlee, Stephenson spent four seasons at Trent Bridge, and was an instant sensation with 125 wickets and 1018 runs in his debut year at the club in 1988 ; most probably the last time that any cricketer will achieve the 'double' in a season. Despite not playing for the West Indies in official tests, he still had a stellar career with 792 first-class wickets at 24 apiece, and 448 limited overs wickets at 19 apiece. Stephenson was the true exponent of the slower ball and probably the best at delivering it in history.
Steve Sutton (born Hartington, Derbyshire, 16th April 1961)
Starting his career as a youth with Nottingham Forest, Sutton was an understudy to Peter Shilton before establishing himself as the club's main goalkeeper in the mid '80s. He appeared in 257 games in 13 seasons for the team, with the highlights being the two consecutive League Cup triumphs in 1989 and 1990. After short spells with several other clubs, including Derby County, he came back to the City ground to become goalkeeping coach for over ten years. He then went to BBC Radio Nottingham to have a stint as a match summariser.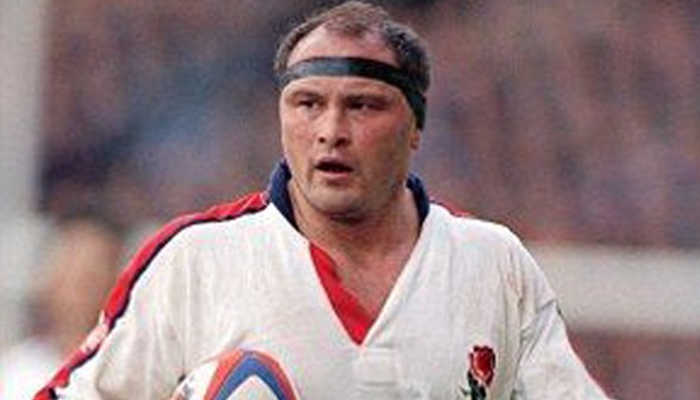 Brian Moore (born Birmingham, 11th January 1962) *pictured above
A world class hooker who played 64 times for England and five times for the British Lions over two tours, Moore started his career with Nottingham in 1981 and played 196 times in nine years before moving to Harlequins and later Richmond. A world cup finalist and four time grand slam winner, Moore was part of a tough front row and was one of the main characters to England's successes in the late 1980's and early 90's.
Stuart Pearce (born London, 24th April 1962)
'Psycho' was a hard and tough defender who had a successful career with both Nottingham Forest and England. Known for his free-kicks, Pearce started his career with non-league Wealdstone before joining Forest in 1985. Despite his position on the pitch, he managed 63 league goals for the club in 401 matches. He captained the team to four trophies in four seasons. Awarded an MBE in 1999, he represented the England national team in 78 internationals, participating in two major semi-finals at the World Cup and the European Championship. Pearce was just as influential as a manager, coaching teams such as Manchester City and England Under-21, as well as Forest.
Simon Hodgkinson (born Bristol, 15th December 1962)
During the early years of Courage League Rugby Union, the green and whites of Nottingham were at the top of their game domestically and had a side playing at Ireland Avenue, Beeston that included a handful of England Internationals. One of which, Simon Hodgkinson was kicking his way to record points tally's as he helped his side win the 1991 Grand Slam in phenomenal form with the boot, scoring 60 points in four matches, a record since broken by Jonny Wilkinson who later mentioned in his own biography that Hodgkinson was an 'idol' of his.
Andy Afford  (born Crowland, Lincolnshire, 12th May 1964)
With a career spanning 170 first-class matches, Afford was a slow left-arm bowler for Nottinghamshire, partnering the more successful Eddie Hemmings in the early '90s. Despite having a batting average of just 4.18, he took 468 wickets during his playing days, bagging five wickets in an innings 16 times. An appearance for the England A team and a success in a Second XI trophy competition were his main accomplishments. From being an editor of a magazine, Afford then became a managing director of a Nottingham-based design business.
Mick Newell  (born Blackburn, Lancashire, 25th February 1965)
A steady and unspectacular cricketer, Michael Newell is currently the director of cricket for Nottinghamshire CCC. A batting career which saw just over 4500 runs in 102 matches, Newell became better known as a first team coach as he helped the county to two county championship wins in 2005 and 2010. He was also a part of the England cricket team selection committee, before moving to the directorship position at Trent Bridge in 2015. When young, Newell apparently once had a trial with Nottingham Forest FC with his dad in attendance.
Des Walker (born London, 26th November 1965)
A true legend at Nottingham Forest FC, Desmond Sinclair Walker appeared in seven domestic cup finals with the club in five seasons, with two League Cups amongst the five trophy victories. A career spanning 12 seasons, he competed in over 300 league games for the team and scored the one and only goal of his career on New Year's Day in 1992. Walker also had a prolific run with Sheffield Wednesday with again over 300 league matches in eight years. He was praised highly as England reached the semi-finals of the 1990 World Cup with his central defensive role. Walker played seven of his 59 internationals at those finals.
Mark Crossley (born Barnsley, South Yorkshire, 16th June 1969)
As the only goalkeeper to ever save a Matthew Le Tissier penalty kick, Crossley was a bona fide fan favourite at the City Ground, accumulating over 300 league appearances for Nottingham Forest in a 12-season run. Starting as a trainee with the club in 1987, he also had the honour of saving a Gary Lineker spot-kick in the FA Cup final of 1991. A loan spell with Manchester United bore no first team matches, and before moving around numerous other clubs towards the latter stages of his career, was awarded a testimonial game by Forest in front of 15,000 spectators. He represented the Wales national team eight times.
Bryan Roy (born Amsterdam, Netherlands, 12th February 1970)
With 32 caps to his name, Bryan Eduard Steven Roy was a fine winger for the Netherlands team in his heyday, and even though his main playing stint came with Dutch side Ajax, including a UEFA Cup triumph, he played over 80 league games for Nottingham Forest and gelled well with Stan Collymore as the club finished third in the Premier League in 1995. He competed at two World Cup competitions and one European Championship. He took up coaching after hanging up his boots.
Chris Cairns (born Picton, New Zealand, 13 June 1970)
One of the best all-rounders in the world on his day, Cairns had a long career at Nottinghamshire CCC. He competed in 92 first-class, 96 one-day, and nine Twenty20 matches over a nearly 20-year period. He blasted the fastest hundred of the season in 1995 and was named in the Wisden Cricketer of the Year list in 2000. A handy cricketer for New Zealand, he appeared 62 times in tests for the Kiwis and had his best bowling figures of 7 for 27. He was named man of the match when New Zealand won the ICC Knockout Trophy in 2000, and was honoured with the country's Order of Merit five years later for his services to cricket.
Jason Gallian (born Sydney, Australia, 25th June 1971)
Though starting his career with Lancashire, and representing England in three test matches, Aussie-born Gallian had his longest and most successful time at Nottinghamshire. Having recorded a career-best score of 312 whilst with Lancashire, he became the first cricketer to be dismissed twice for 199 in 2005, both times run out going for the double hundred. Gallian captained the Australian Under-19 team in test matches, but his six test innings for England produced a high score of just 28. He managed to hit 24 of his 38 first-class centuries with Notts.
Roy Keane (born Cork, Republic of Ireland, 10th August 1971) *pictured above
In a three season period, the robust and brash midfielder from Ireland helped Nottingham Forest to reach two major Cup finals and a victory in the Full Members' Cup in 1992. Still young, he had joined from a minor team Cobh Ramblers and competed under the regime of the legendary Brian Clough. A move to Manchester United saw Keane become one of the most successful players in the English game, and with a total of 67 caps, captained the Republic of Ireland team on numerous occasions. He tried his hand at football management before eventually becoming a television pundit. For Forest, he notched up 22 league goals in 114 games.
Stan Collymore (born Stone, Staffordshire, 22nd January 1971)
'Stan the man' was another short-term fixture at Nottingham Forest FC. Coming from Southend United, he put together a total of 19 goals in 28 games in his first season as the club gained promotion to the Premier league. There was a goal in his debut game in the top-flight league, and with 22 strikes by the end of the campaign, the club were able to secure third place in the table in 1995. Collymore was a consistent goalscorer wherever he went, but had only three international games for England. He played for ten clubs during his career. For Forest, he had a prolific time with 41 goals in 65 league games.
Stephen Fleming (born Christchurch, New Zealand, 1st April 1973)
As the most successful captain of the New Zealand cricket team, Fleming used his leadership skills to good effect in 2005, when he skippered the club to its first County Championship title in 18 years in his debut season. In three seasons with Notts, the Kiwi averaged a superb 55.49 and hit ten centuries. A prolific test career tallied up to 111 matches and a top score of 274 not out. He coached with success after retiring and is currently with the Chennai Super Kings in the twenty20 IPL competition. As one of the country's greatest ever batsman and leaders on the cricket field, Fleming was naturally honoured with the NZ Order of Merit accolade in 2011.
Usman Afzaal  (born Rawalpindi, Pakistan, 9th June 1977)
Born in Pakistan, Afzaal started his career with Nottinghamshire and spent nine years at Trent Bridge, before also playing for Northamptonshire and Surrey. He represented England in three test matches in 2001 against Australia and hit a fifty in his third game off only 76 balls. With over 14,000 career runs and 32 first-class hundreds, he was also a decent player in the one-day and twenty20 matches. He launched his own cricket academy for youngsters after retiring and also owned an Indian restaurant near to Trent Bridge.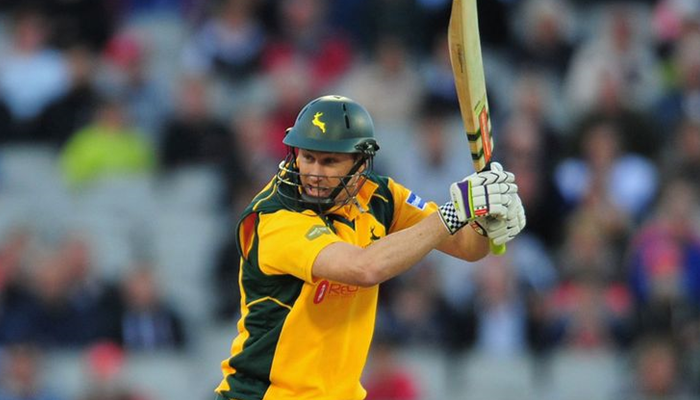 David Hussey (born Mount Lawley, Australia, 15th July 1977) *pictured above
A batsman capable of some extraordinary hitting, Hussey joined Nottinghamshire CCC in 2004, and proceeded to record some mighty figures. A career-best 275 off just 227 balls with 14 sixes, and 120 off just 61 balls in a one-day game were just two of the many highlights. The brother of fellow Aussie cricketer, Michael, he has been one of the most consistent performers in the limited-over and twenty20 game all around the world. Despite no test match appearances, Hussey has represented Australia in over a 100 international matches. He helped Notts to win the One-Day trophy in 2013 in his final season at the club.
Ryan Sidebottom (born Huddersfield, West Yorkshire, 15th January 1978)
With over 1000 career wickets, Sidebottom was a stalwart for Yorkshire, Nottinghamshire, and the England cricket teams. With five county championship triumphs and a test match hat-trick, he is the son of former Yorkshire veteran, Arnie. Sidebottom collected 216 first-class wickets for the county at just over 25 apiece during his seven seasons with the county, winning two county titles with the team. He represented England in 22 test matches and 25 one-day internationals, and was part of the team that won the 2010 World Twenty20 tournament, taking a crucial 2 for 26 in the final against Australia.
Chris Read (born Paignton, Devon, 10th August 1978)
A bona fide veteran of Nottinghamshire cricket, Read kept wicket for the county for 20 long seasons, gloving a superb 939 catches and 44 stumpings, as well as accruing over 15,000 first-class runs at an average of 38, with a top score of 240. A county captain for eleven seasons, he represented England in 15 test matches and 36 limited overs internationals. His career total of 349 matches saw him take over a 1000 catches, and in his final season at Trent Bridge, he score a fifty as the county won the One Day Cup. In 2007, he ran in the New York Marathon and finished in the creditable top five percent of the 90,000-plus runners that took part in the event.
Graeme Swann (born Northampton, 24th March 1979)
One of England's top spinners in test match cricket, Swann spent nine years with Nottinghamshire CCC. Starting off at Northamptonshire, Swann participated in just 68 first-class matches for the county, collecting 160 wickets, due to his regular appearances for England. In 60 internationals, he captured 255 test wickets with five or more wickets in an innings 17 times. Known as an aggressive slow bowler, he won many a game for England with his performances. After retiring, he became something of a television personality.
Marlon Harewood (born London, 25th August 1979)
London-born striker Marlon Harewood was a multiple club man, but began his career with Nottingham Forest as a youth. He had a fine spell with the club with 51 league goals in 181 matches in seven seasons, including 20 in the 2002/03 campaign. With West Ham United he got an FA Cup runners-up medal and a higher strike rate of 47 goals in 142 league games. After representing over a dozen clubs, he finished off his career with minor league team Nuneaton Town after 20 years on the field of play. In early 2008 he declined a call-up from the Barbados national team to play in a World Cup qualifier.
Kevin Pietersen (born Pietermaritzburg, South Africa, 27th June 1980)
One of England's finest batsman of the modern era, Pietersen was one of the most dominant batsman of his day, participating in 104 test matches, and scoring over 8000 runs at an average of 47. Starting off his career in South Africa, Pietersen joined Nottinghamshire in 2001 and stayed for four seasons. He averaged over 55 for the county in 93 first-class innings, and had a top score of 254 not out. Awarded the MBE in 2006, he was a star player around the world, playing for three different Indian Premier League franchises, and being named the player of the series as England claimed the World Twenty20 trophy in the West Indies in 2010.
Andy Reid (born Dublin, Republic of Ireland, 29th July 1982)
Beginning his career at Nottingham Forest and ending it at the City Ground, Reid played over 250 times for the Reds in the league during a 16-year career. Having turned down playing for both Arsenal and Manchester United, he had a short stint with Tottenham Hotspur before returning to the Midlands team six years after he had left. He became an influential member of the team before having to retire in 2016 due to ongoing injury problems. In a ten-year period, Reid also played in 29 internationals for Republic of Ireland, scoring four goals.
Michael Dawson (born Northallerton, North Yorkshire, 18th November 1983)
Having started his career with Nottingham Forest, Dawson also ended his playing days with the club last year. Primarily a stalwart with Tottenham Hotspur with 236 games in the Premier League, including a League Cup success, he returned to Forest in 2018 and became team captain. Having played alongside Des Walker in his early days, his professionalism as a defender earned him four international caps for England, including being selected for the 2010 World Cup squad after an injury to Rio Ferdinand. For Forest, he made over a 100 league appearances.
Riki Wessels  (born Queensland, Australia, 12th November 1985)
The son of former South African and Australian test batsman Kepler, Riki competed in eight seasons for Nottinghamshire County Cricket Club. He played in 287 matches and scored over 11,000 runs in all competitions for the county. Mainly a specialist in the shortened format of the game, he put in some memorable performances for Notts, including a triple century partnership in a one-day game and the side's first twenty20 hundred. He also represented Northamptonshire and Worcestershire, as well as some twenty20 franchises around the world.
Chris Cohen (born Norwich, 5th March 1987)
A stellar playing career with Nottingham Forest, Cohen appeared in 272 league games for the club in an 11-year spell towards the end of his playing days. Twice the winner of the player of the season, he held the position of a midfielder, even though he could also play in the defensive role. He scored 17 times for the club, and played the majority of his time in the Championship division. Cohen retired at the age of 31 due to injury problems, having previously competed for West Ham United and Yeovil Town earlier in his career.
*information supplied by Daniel Peacock & Hitesh Darji.