Yesterday (January 24th) was the 150th birthday of Herbert Kilpin. Who? You might say? That was certainly a question asked until only recently when it was re-discovered 10 or 15 years ago that the founder of one of Europe's most successful sporting teams and a man that gave football to the people of Milan was one of our own.
When I started the Nottingham Sport website little over three months ago it was not only to give the good people of this city a service (like our trams) to be proud of, one that would provide thought, results and focus on the current day issues involving our sporting clubs and athletes across the levels but not only that, it was also to boast about how bloody great our city is from a sporting perspective. So good in fact, it deserved a website in its own entirety…
Named with his own tram these days Herbert Kilpin is not on his own in Nottingham folklore, we've had great sporting icons (who also have trams named after them), World Champions, Olympians, European Title winners… The growing list shows a small suburban city in the heart of England massively punching above its weight in the world of sport. How can we not be proud of that as Nottinghamians?
I myself often boast to those outside our Nottingham castle walls that we have pound for pound by far the world's best sports city… Football the worlds game, until last year at least, boasted the world's oldest football league club on our doorstep. Sitting on the banks of the Trent we have one of only 12 teams on the continent to have won multiple European Cup finals which is the biggest prize on offer in club football. We created AC Milan, gave shirts to Arsenal and Juventus invented shinpads, innovated the use of whistles and crossbars and our two biggest clubs will go down in folklore for their achievement's thanks largely to two of the greatest football managers who've ever lived or walked on water.
Our counties cricket team has 21 (including a few shared, a few unofficial and one disputed) county championship titles under their belt. The world's greatest test arena Trent Bridge is one of the oldest and most famous cricket venues in the world, we even create our own bats and balls through the legendary Gunn & Moore. Notts have had Larwood & Voce, Six sixes by Sober, Eddie Hemmings in the B&H Cup, Broad in the Ashes, Hales smashing Surrey to smithereens…
We made cycling fun through Raleigh, Swimming great through speedo, our Ice Hockey team is the first and only UK team to win a European Trophy and our Rugby Union team boasted England Internationals that your dad will still remember.
Our nation's greatest winter Olympians of all time Torvil and Dean are from this city and along with Nottingham Panthers are the reason why Nottingham is home to the 'National' Ice Centre, we have the 'National' Watersports Centre too, despite being furthest from the sea than any other county in Britain (to be disputed) and we can't forget one of the greatest boxers of all time, no not Bendigo but Carl Froch, a three time world champion from Colwick.
I could go on, but I've lost my initial point… Herbert Kilpin and the creator of AC Milan.
In the late 1800's living above a butchers on Mansfield Road, Kilpin would play regular football on the Forest Racecourse for Notts Olympic & St Andrews Church. The lace industry (another thing Nottingham is famous for) would take Kilpin to Italy, and this is where he would stay, alongside fellow ex-patriot Alfred Edwards in 1898 he passed his knowledge of the newly formed beautiful game on to locals and invented Milan Football and Cricket club who he would also play for and manage winning three Italian titles along the way.
The rest I suppose is history… Kilpin died in Italy aged 46 on the 22nd October 1916 but his legacy would continue and AC Milan would go on to become one of the great sides in world football. 7 European Cup triumph's and 18 Scudetto's later we now fondly remember Kilpin in these parts thanks to nothing more than a logo bared shop window behind a bus stop, a name on a tram and a small pub tucked away hidden in the city, but at least we remember.
I actually forgot it was Herbert's birthday until reading a Facebook friend's message late last night, an Italian named Victor Fiore who is a football historian and who has travelled across England looking into the games roots… What I won't forget however is the legacy and dynasty that Mr Kilpin (and friends) created. Because without him, without Nottingham, there would be no AC Milan and there would not have been that great side in the late 80's and early 90's of Gullit, van Basten & Rijkaard… No Sacchiball, no Kaiser Franz or il Capitano, no Donadoni or Ancelotti, no sign of the greatest back four the world has ever seen (eg Tassotti, Maldini Baresi, Costacurta)… A life without watching that unbelievable team destroy Barcelona 4-0 in the Champions League final (for those of us old enough)… Imagine not watching that?
All down to Herbert Kilpin and his vision to bring football to Milan?
And simply because that great Milan side under both Capello and Sacchi had such a big influence on my own football upbringing I've already told my Italian friend Victor that tonight, all be it belated, "I'll go and have a drink" to celebrate Herbert Kilpin's 150th birthday in the pub now famously named after him, all be it hidden away in the back streets of Nottingham city centre, because that's how much I owe Kilpin and his teams famous legacy.
Happy Birthday Herbert. Cheers and thank you.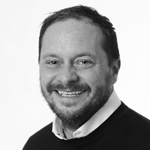 *Article provided by Daniel Peacock (Editor).
*Main image @acmilan Nottingham born son of a butcher Herbert Kilpin co founder of Milan.