70 years is an enduring lifetime which some will never even get the pleasure to see through fully, many will by grit and graft reach the long spanning milestone with good health & good luck on their side, but to run a country, a commonwealth, a monarchy, for a day, never mind a seven spanning decade of 70 seemingly everlasting years, well that's an obscene thought which doesn't bear thinking about, especially for an average Joe like me.
70 long years ago, however, a young 26 year old, Elizabeth Alexandra Mary Windsor, took the throne, in 1952, following her father's death, that of King George VI, and ever since, all we've ever known, is one nations love for our QEII.
Visits to Nottingham for her Platinum Jubilee in 1977 where she opened the cities Queens Medical Centre and in 2002 for her Golden Jubilee, where she visited the then newly opened National Ice Centre, stand out, for many as occasions, historical moments, iconic times in history, where local folk could get a glimpse, or indeed meet the world renowned Queen of England in person.
First visiting Nottingham for an official visit as Princess Elizabeth in 1949, the Queen re-visited the city in her newly crowned capacity during 1955, where she attended the Royal Agricultural Show held at Wollaton Park.
At that show, the Queen who was a huge horse racing lover who regularly attended Royal Ascot and the Epsom Derby, watched Olympians Pat Smythe and Colonel Harry Llewellyn along with local born riders Gordon Tomlinson and W Bailey in the show jumping event.
To another near notable sporting occasion, her first glimpse of Nottingham as a city bound for success, was in 1959, where she handed Nottingham Forest captain Jack Burkett the gleaming FA Cup trophy at Wembley Stadium after the Reds beat Luton Town 2-1 in a thrilling final that year.
Seven years later she was again in attendance at Wembley for the final of the World Cup, in which England beat West Germany 4-2, handing Bobby Moore the golden Jules Rimet trophy, the only time the nation would achieve such great feat. Ray Wilson perhaps the nearest to Notts involvement on the day, Shirebrook born of course on the Derbyshire, Nottinghamshire border, he would get to shake hands with her Royal Highness having played a part in his countries greatest sporting success.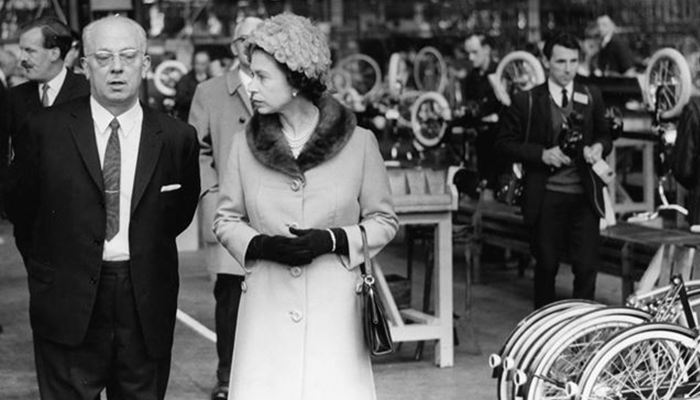 The Queen on her visit to the Raleigh Cycle Factory in 1968.
Two years later, in 1968, the Queen would visit Nottingham's renowned Raleigh Cycle Factory. The popular global manufacturer Raleigh, would be a Tour de France winner in 1980 when Dutch rider Hoop Zoetemelk took the honours of the world's most famous bike race, in 1984 the USA team dominating Olympic cycling gold on Raleigh bikes.
During 1977 the Queen, along with her late husband, Prince Philip, Duke of Edinburgh, attended a test match between England and Australia at Nottinghamshire County Cricket Club's Trent Bridge.
The official Trent Bridge website stating " Her Majesty's arrival was a little delayed as huge crowds on roads approaching the venue led to the late arrival of the party."
"The party were presented to the competing sides and match officials upon their arrival, with Nottinghamshire's Derek Randall and future Notts player Mike Hendrick amongst their number."
The Queen at Trent Bridge in 1977.
There's been many official attendances in Nottingham and the county of Nottinghamshire by Queen Elizabeth II, many sporting successes, seen and acknowledged by the Queen in person, and in spirit, many also presented outstanding honours for their legacy and achievements by her, Torvill & Dean in 1999, given the Order of British Empire, Brian Clough prior to that, nicknaming his 'OBE' received as one for 'Old Big Ed'.
Mansfield born swimmer Rebecca Adlington was awarded an OBE in 2009 after winning two gold medals at the Olympics the year previous. Aged 19 at the time, she said on first meeting the Queen "I can remember going to get my OBE and I took my parents with me, which was amazing because my mum and dad were like, 'Oh my god we're at Buckingham Palace'.
"It was just amazing I got to do it with my mum and dad. I'm a big royal fan. I absolutely love the royals, I think they're amazing".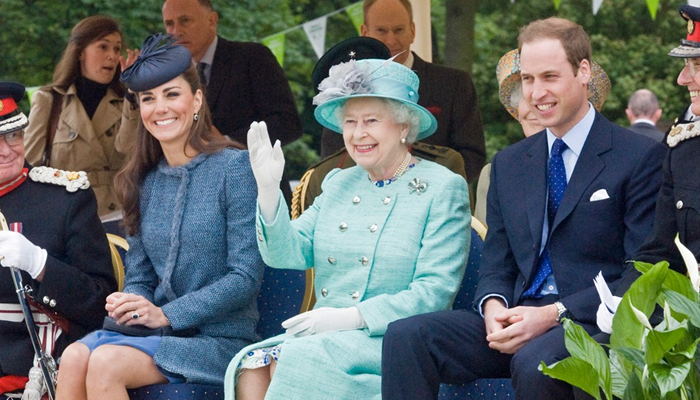 The Queen with Princess Kate & Prince William at Vernon Park in 2012.
The Queen last officially visited Nottingham in 2012, for her then Diamond Jubilee. Alongside the Duke & Duchess of Cambridge where she looked picturesque in pale blue, waving down to the huge 35,000 crowd in the Old Market Square from the Council House balcony. She even attended a school sports day at Vernon Park in Basford, issuing the venue with a commemorative plaque.
Between 1952 & 2022 under her leadership up until her sad death, she has seen Nottingham Forest twice win the European Cup and suffer twenty years of Premier League exodus prior to their return, has been around to witness Notts County's promotion to the top division of English football from the bottom, and back again into depths of the National League, has outlasted the eras of Brian Clough and Jimmy Sirrel, was monarch when little old Rainworth Miners Welfare reached a Wembley final, and was in charge during a time where Mansfield Town would be Freight Rover Trophy winners under the famous twin towers, in all her reign lasting longer than 37 Stags managers, 57 Notts bosses, 42 permanent & temporary Forest Head Coaches. She watched Torvill & Dean dance the Bolero, visited the Ice Arena old and new, saw Derek Randall play for England, headed down the Forest Rec, like me or you. All whilst representing her family, her people, and her commonwealth, in only the most stupendous of ways possible.
A sad day and an end of an era, but what an era it's been, to everyone who's proud of their country, god save the Queen.
*Article provided by Daniel Peacock (Editor).
*Main image @NFFC the Queen presenting Jack Burkitt with the FA Cup in 1959.