Forest didn't have a "divine right" to beat Burnley, but could they have done more?
The City Ground witnessed the fifth game week of the 23/24 Premier League season last night, as Nottingham Forest took on Burnley in a clash with various expectations; many Forest fans believed that the match would be less difficult for the Reds than it was, and Burnley proved to be a team that shouldn't be underestimated. But could Forest have done more?
The First Half:
Cooper's Forest started with a few new names in the side: the likes of Sangaré, Hudson-Odoi & Montiel all making their City Ground league debut's.
The half started well for Forest – getting forward with real pace & intention, but despite chances created, and moves made, they couldn't quite put one in the back of the net. Elanga was particularly important for Forest: his short births of pace, and ability to cut through and around players made him a real nightmare for Burnley's midfield & defensive sectors, but even his efforts couldn't see a Forest goal in the first.
Burnley would soon thrive given this lack of Clinically, and force attacks of their own – one man in particular stood out to me, young Luca Koleosho, 19, who signed from Espanol in the summer. His pace, and agility made him a real threat: Montiel & Worrall would soon learn this, as Koleosho's run on the byline, leads to a ball finding Amdouni on the edge of the box, who strikes the ball so sweetly and opens the scoring in Burnley's favour. The goal in particular, for me, showed how Montiel struggled to contain Koleosho – Cooper would later make the correct decision to replace him with Aina, and move newly-substituted Nuno Tavares over to the left hand side.
The Second Half:
In this half, Forest started with less flare than the first; early mistakes lead to a Burnley attack, but luckily for the Reds nothing came of it. Koleosho again providing attacking attributes for Burnley, who also brought on Zaroury to apply the pressure further; a player with sharp feet, and good vision – Forest's defence found themselves with another problem.
Despite this, and Lyle Foster's occasional chance, Forest would get a goal back as Taiwo Awoniyi receives a ball and passes it to debutant Callum Hudson-Odoi, who drifts inside to the edge of the Burnley box, and fires a world-class right-footed shot into the right hand post, and into the Burnley net: some way to open the tally at his new club, and my goodness did he do it in some fashion. A VAR check took place, but the officiating team allowed the goal: after 61 minutes Forest were back level, and a superb debut goal for Hudson-Odoi.
Burnley's night would get more difficult though, as a late winner was disallowed due to a Sander Berge handball in the buildup to the goal, and then later a red card for in-form Lyle Foster, who's violent conduct in elbowing substitute Ryan Yates leads to a VAR call, then a Red Card showing – Burnley down to ten men in the dying moments of the game.
Despite this, Forest did not capitalise, and after 99 minutes of action, the game finished 1-1.
A brief reflection:
Could Forest have done more? Yes. Being more clinical is so important – with lots of opportunities around the edge of the box, and sometimes in it, more composure was needed. Secondly, possession was wasted sometimes in dangerous areas – sometimes the simple things need to be done better.
Other than this, I did feel that it wasn't a terrible performance, just once that demanded a better collective mentality.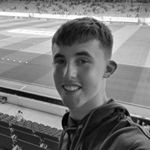 *Article provided by Jamie Martin (Head Nottingham Forest Correspondent).
*Main image @NFFC Ola Aina displayed one of the few bright Reds performances.