Nottingham Forest's Argentine "Wizard" is taking the Premier League by storm.
Since arriving at the club this summer as part of a swap deal with former Forest midfielder, Reno Freuler, who is now at Bologna, in Italy, Nicolas Dominguez has shone — from a strong debut against Manchester City, to being a game changer in the fixtures after, Dominguez is showing signs of a star player, and Forest's recruitment department got it so, so right.
The "strange" transfer deal that lead to signing Dominguez.
After much speculation, some concerns over the chances of such a deal happening to sign Dominguez, Forest eventually got the deal over the line, with many not sure exactly what to expect from Dominguez, but having an understanding of some of his qualities already – mainly from domestic Italian sports reports, or if they had played Football Manager post-2021…
According to the Athletic, the formalities of the deal essentially state that Remo Freuler moved to Bologna, alongside [approx] £6.9m, in exchange for 25-year old Midfield Orchestrator, Nicolas Dominguez. He signs on a five-year contract for the Reds, arriving with a plethora of top-level & international experience, at a young age.
His Bologna Days…
Arriving from Argentine side Velez Sarsfield to Bologna in 2019 as a prospect, Dominguez was soon loaned back to his former club for the remainder of 2019, under the coaching of current Central Cordoba manager, Omar De Fellipe – a former soldier and acclaimed football coach.
On return from his loan spell, he would make his debut for the Italian Serie A side, in a 1-0 loss, away, to Torino – making his first start for the team just a week after in a 1-1 draw against Verona.
Dominguez' influence at the Italian club would only grow, eventually captaining the club. After successful campaigns with the club, Dominguez later made the decision to join Nottingham Forest, with Bologna manager, Thiago Motta, describing him as a "fantastic boy" and a player "committed to the shirt," one he served for almost four years.
His career at Bologna would end on deadline day, summer 2023, a new, exciting, era for his career on the horizon at Premier League side, Nottingham Forest.
Now, a Red – and a fan-favourite
Typically, it takes many players joining a new club, especially a Premier League club, time to adjust to the new lifestyle, new playing style, and other factors; former Serie A footballers have notoriously struggled in the league, so some odds were stacked against Dominguez. The Argentinian would shrug off any doubt, or need for time to adjust, though, as after his first appearance against Manchester City – his debut, where he featured for 90 minutes – he has since played over 60 minutes in every game since, lapping up praise along the way.
Playing in, what I have analysed to be more of a "roaming midfielder" role, Dominguez' skillset does not limit him to one sector of the pitch; sliding tackles to break down opponent counter attacks, or creating a counter-attack of his own for the Reds, 'Nico' does a little bit of everything. Many would argue that, and with no disrespect to Remo Freuler, who just didn't quite adapt to the standards upheld in the Premier League, that Nicolas Dominguez is what Forest fans had hoped Freuler would be: a midfield orchestrator, a Rolls-Royce, if you will.
His aerial ability, matched with superb defensive acumen is not all that is his game is limited to – so far this season, he has averaged two shot-creating actions per game (12 in 6), in just 490 minutes of Premier League football. He's been edging towards another goal for quite some time, and likes a speculative effort here-and-there, it's refreshing to know not only that he is reliable & consistent, but also just how much he has to offer, alongside, of course, his ridiculously impressive work rate.
To be Captain of a club you had only really just started your career with at Bologna, and considered one of the best players in a Premier League team you'd just joined, you'd probably argue you have a special talent on your hands. Nicolas Dominguez is exactly this, and the sky is the limit for him; a special, driven player. It might be the most shrewd recruitment Forest have done this summer, and I would argue one of the best since Steve Cooper joined the club, but of course, still early days.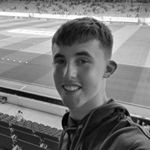 *Article provided by Jamie Martin (Head Nottingham Forest Correspondent).
*Main image @NFFC Nico Dominguez has been a brilliant signing for Forest.