West Ham United 3-2 Nottingham Forest (Premier League) 12.11.23
A well-rounded performance curtailed by costly mistakes: Forest lose at the London Stadium.
Nottingham Forest with a humbling, late, defeat to the Hammers, who didn't quite 'hammer' Coopers Reds, but costly mistakes lead to Forest losing a lead once again; positives present, but negatives linger.
The First Half:
An exciting first half started with, unfortunately for the Reds, an incredibly early goal from Lucas Paquetá. Nicolas Dominguez' attempted switch of play across the low midfield line, just off the Forest 18-yard box, deflects off a man, and finds  the Brazilian midfielder who slots it past Vlachodimos to make it 1-0 to the Irons, just 3 minutes in.
After this though, Forest heads would not drop – a strong midfield, matched with cohesive defending & conviction going forward gave the Reds the upper-hand throughout the majority of the first half. A well-saved effort by Areola stopped a Forest equaliser half-way into the half, and for some time it looked like there wasn't a way back into this game despite various attacks. Awoniyi would put such worries to bed however, as he takes on a rebounded shot from Morgan Gibbs-White, and places it perfectly to equalise moments before half time.
An ideal ending to an overall consistently decent half for Cooper's Forest.
The Second Half:
This time, the half started more evenly; efforts from both West Ham & Forest came, and some hostility presents as fouls fly left-and-centre, Forest would however be the team to get the better of their opponent to properly start off an exhilarating half of Premier League football.
Anthony Elanga would dispel murmurs of continuing poorer form, as Aina's cross is left to roll across West Ham's penalty area for the on-running Anthony Elanga, who fires it past Areola to open the second half of scoring — 2-1 to Forest.
Bowen would be the Hammers' Hero once again however as just two minutes later, he heads in a fantastic Ward-Prowse corner to level the scoring. Game still open, 65 minutes gone. Anyone's to take. The Iron's would come close again after a poor Aina header, attempted to pass back to his Keeper, only to find Souček who, somehow, shoots and hits the crossbar. Still 2-2.
The disappointment would eventually end however, as another fantastic, pint point corner, from Ward-Prowse finds the tall Czech midfielder, Souček, who redeems himself and scores West Ham's third of the afternoon, and ultimately the winner. Forest heads down. Hammer-time. 3-2.
Forest's demise, probably attributed to the mistakes made at the back in crucial moments of the game. Poor defending from set-pieces, and overall lowered mentality. The subs tried, very hard, but it couldn't be reversed. A sad end to a generally good performance from the Reds.
A huge run of fixtures looms after the International break.
Forest: Vlachodimos, Aina (Aurier 76), Niakhate, Murillo (Boly 76), Toffolo, Sangare (Origi 90), Mangala, Dominguez (Danilo 46), Gibbs-White, Elanga, Awoniyi (Wood 76).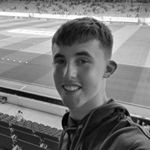 *Article provided by Jamie Martin (Head Nottingham Forest Correspondent).
*Main image @NFFC Anthony Elanga's goal gave Forest a short lived second half lead.