Radford 0-0 Kimberley Miners Welfare (East Midlands Counties League) 09.11.19
Radford and Kimberley Miners Welfare shared the points at the CDW Arena as they played out a 0-0 draw in the East Midlands Counties League.
Radford, who sit 7th in the league, went closest in the first-half through top scorer Ryan Smith but his shot was easily saved by keeper Jake Wood. The visitors put up a good fight despite their position in the league and nearly broke the deadlock through new-signing sensation Jordan Smith. The forward, who has netted nine times in four games, could only hook his shot wide when through one-on-one with Radford keeper Warren Squires on 34 minutes.
In the second half Matt Hopewell blocked a shot on the line to keep Radford in the game moments after the restart. The Pheasants then had a chance to go ahead twice through Errol Campbell yet the forward couldn't direct his shot towards goal from a Conor Moore cross before his shot that beat Kimberley's keeper was cleared away before it could cross the line only minutes later.
The game finished goalless and it was a fair result after both sides battled hard to win the game right up until the final whistle.
Radford, who are still within touching distance of the top of the table, are next in action against West Bridgford away from home as they look to make it four games unbeaten in the league.
Elsewhere in a weekend largely effected by the weather Hucknall Town were biggest winners seeing off Clipstone 7-1 at the Lido with Joe Ashurst netting a hat-trick. Dunkirk also impressive were 4-0 winners at Shirebrook with Ellis Evans scoring early with two from Tyrrell Shannon Lewis and one from Jordan Alls capping off a fine win. Gedling Miners Welfare beat Barrow Town 3-1 thanks to a Courtney Hastings brace and one from Felix Hogg whilst Rainworth Miners Welfare beat West Bridgford 2-0 thanks to Adeleye Blessing and Aidan Harris.
Radford: Squires, Hopewell, Hore, Spencer, Nice, Durham, Spriggs (Kelleher 73), Richardson, Moore, Smith, Campbell (Harrung 90).
Kimberley Miners Welfare: Wood, Weathall, Parker, McNicholas, White, McLaughlin, Akinbinu, Cheatle (Welsh 78), Barr-Rostrow, J Smith, C Smith.
Venue: Selhurst Street (78)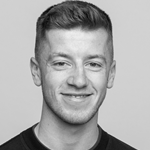 *Article provided by Peter Trifunovic (Radford Correspondent).
*Main image @RadfordFC64 frustrations during a scoreless game at Selhurst Street.