Heanor Town 2-0 Radford (East Midlands Counties League) 05.02.20
Radford were punished by a clinical Heanor Town side as they lost 2-0 in the East Midlands Counties League on Wednesday night.
Having only recently lost their first two games this season, Heanor may have been for the taking by the Pheasants who came into the game off the back of two consecutive wins.
Yet despite all of the visitors' efforts in the early stages, Jamie Sleigh punished Radford twice in the first-half to show why he has been so dangerous in front of goal this campaign.
However, Heanor could've been caught out early on when Conor Moore threatened down the left-wing nearly finding loan-signing Mamoke Akauna in the box on several occasions.
Then, 12 minutes into the game, Radford found themselves behind, a lapse in concentration allowed Sleigh to break through the defensive line before slotting the ball over Warren Squires' outstretched leg.
Radford battled well to ensure the game didn't run away from them following the early opener but they just lacked that final shot in front of goal.
For all of their pressure, it was Heanor who were making the most of their opportunities.
With five minutes to go until the break, Sleigh made it 29 goals in 28 appearances when he pounced on a rebound to tap home from close range.
The second-half saw Radford limited to few attacking chances with very little falling for the attackers.
Warren Squires did well to keep Heanor's lead to just two when he scrambled to clear a loose ball and stood firm to deny Sleigh from getting his hat-trick when he was through one-on-one on 65 minutes.
Radford nearly had a consolation goal when Akauna used his pace to break into the area before squaring the ball to Ravarn Jackson but he could only side-foot the ball wide of the post.
Heanor will be pleased by the victory, especially given that they weren't at their best on the night but Radford will be disappointed that they let an opportunity to pick up points against a title-chasing side go to waste.
An even tougher fixture awaits the Pheasants on the weekend as Eastwood Community FC visit the CDW Arena.
The Pheasants will need to be in top-form to ensure the league leaders don't repeat the scoreline of the reverse fixture earlier on in the season when Radford lost 6-3.
Heanor Town: Pierrepont, Ritchie-Smith, Horne, Thornberry, Roulston, Hall, Matthews (Birks 82), Ball, Sleigh (Hazeldine 82), Debrouwer (Coyle 87), Daley.
Radford: Squires, Ball (Manners 45), Hore, Richardson, Nice, Smallwood, Daly, Durham (J Smith 75), Jackson, Akauna, Moore (Cooke 60).
Venue: The Town Ground (107)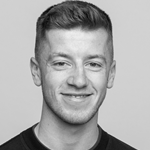 *Article provided by Peter Trifunovic (Radford Correspondent).
*Main image @RadfordFC64 East Midlands Counties action as Radford push verses Heanor.